After a Fashion (#01 in A Class Of Their Own Series)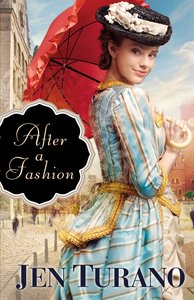 :New Series from Author of One of Booklist's Top 10 Romances of 2013

After years of working in a millinery shop, Miss Harriet Peabody dreams of the day when she'll open up her own shop and sell re-fashioned gowns to independent working women like herself. When a delivery errand goes sadly awry, her job--and her chance at saving enough for her shop--is at stake all due to a rather unfortunate misunderstanding with a customer.

Mr. Oliver Addleshaw enjoys a certain position in society, but his real aim is to follow in the footsteps of men like Cornelius Vanderbilt. On the verge of his biggest business deal yet, he learns his potential partner prefers to deal with men who are settled down and respectably married. As matters stand, Oliver's ex not-quite-fiance recently became unhinged and lost a poor shop girl her job. Oliver feels bad for the hapless Harriet and, hoping to kill two birds with one stone, asks for her help in making a good impression in his business deal.

Harriet dives into the circles of high society head first, only to find that her love of fashion can't make her fashionable. She'll never truly fit into Oliver's world, but just as she's ready to call off the fake engagement, fancy dinners, and elegant balls, a threat from her past forces both Oliver and Harriet to discover that love can come in the most surprising packages.

- Publisher
You May Also Be Interested In
About "After a Fashion (#01 in A Class Of Their Own Series)"
:New Series from Author of One of Booklist's Top 10 Romances of 2013

After years of working in a millinery shop, Miss Harriet Peabody dreams of the day when she'll open up her own shop and sell re-fashioned gowns to independent working women like herself. When a delivery errand goes sadly awry, her job--and her chance at saving enough for her shop--is at stake all due to a rather unfortunate misunderstanding with a customer.

Mr. Oliver Addleshaw enjoys a certain position in society, but his real aim is to follow in the footsteps of men like Cornelius Vanderbilt. On the verge of his biggest business deal yet, he learns his potential partner prefers to deal with men who are settled down and respectably married. As matters stand, Oliver's ex not-quite-fiance recently became unhinged and lost a poor shop girl her job. Oliver feels bad for the hapless Harriet and, hoping to kill two birds with one stone, asks for her help in making a good impression in his business deal.

Harriet dives into the circles of high society head first, only to find that her love of fashion can't make her fashionable. She'll never truly fit into Oliver's world, but just as she's ready to call off the fake engagement, fancy dinners, and elegant balls, a threat from her past forces both Oliver and Harriet to discover that love can come in the most surprising packages.
- Publisher


Meet the Author
Jen Turano
Jen Turano is a graduate of the University of Akron with a degree in Clothing and Textiles. She pursued a career in management for nine years before switching to full-time motherhood after the birth of her son. When she's not writing, Jen can be found watching her teenage son participate in various activities, taking long walks with her husband and dog, socializing with friends, or delving into a good book. She lives in suburban Denver, Colorado. Learn more at www.jenturano.com. A
Customer Reviews For "After a Fashion (#01 in A Class Of Their Own Series)"
Write Your Own Review
reminiscent
By becinchina,

Jun 01 2017
This book reminded me for some reason of My Fair Lady. I shall have to be asking and looking out for my 'something wonderful' on my birthday in a couple of weeks. :)
---
Hilarious Witty
By Johanna,

Nov 21 2016
What's the first word that comes to mind when you hear the name Jen Turano? Humour. I have no idea how she does it. Yes, humour is humour. But with Turano, it never gets old. Instead, it's refreshing. There are always new elements that seem so out-of-the-blue. In After a Fashion, Harriet is the town's best hat maker. Only, nobody knows it, and in efforts to keep her job, she has to convince Oliver Addelshaw's 'fianc' to buy the hats she just purchased. Headstrong women who love their independence. Turano doesn't get more entertaining than this. 
---
A light read
By Bec C,

Sep 25 2015
Jen Turano's "After A Fashion: A Class of Their Own", is a light-hearted book which is easy to read. I really enjoyed Turano's writing style and felt the characters come to life throughout the pages of the book.
---
Brilliant!!!
By Hannah,

Jun 29 2015
Absolutely LOVED this book! The story was delightful, keeping me laughing the whole way through it  except when I was swooning! The cast of characters were so much fun, and not only just the main ones but the secondary ones also. I also loved the lessons the characters learnt throughout the book though, without it ever sounding preachy. They were subtle, I doubt I could point to an exact scene, but I felt as if Id lived through a life-changing sermon by the end. Delighted to have found a new favourite author and cannot wait to read the next book in the series! 

---
Fun new series
By Iola,

Apr 06 2015
I'm a big fan of Jen Turano's writing. Her characters are intelligent, quirky, and funny, yet it never seems as though that's the effect she's trying to achieve (I recently attempted to read a title where I suspect the author was trying to be funny, but missed the mark and hit cringe-worthy instead. At least I hope she was trying to be funny. The alternative is too horrible to contemplate).

Jen Turano manages to infuse her writing with amusing quips (such as describing one character as having an "overabundance of personality") without being cringey. And the over-the-top ridiculous situations her characters routinely get themselves into are well-paced comedy, not slapstick. After a Fashion is the first book in a new series, and is recommended for fans of Carol Cox and Karen Witemeyer.

Thanks to Bethany House and NetGalley for providing a free ebook for revie
{{review.title}}
By {{review.author.name}},

{{review.reviewCreatedDate | date:'MMM dd yyyy'}}

{{reviewdescription}}
{{review.text}}
---
Other Titles In The "A Class Of Their Own Series" Series