After War, is Faith Possible?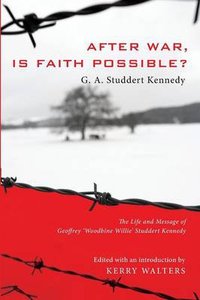 Description: ""There are no words foul and filthy enough to describe war."" So declared Geoffrey ""Woodbine Willie"" Studdert Kennedy (1883-1929), a decorated frontline chaplain whose battlefield experiences in World War I transformed him into his generation's most eloquent defender of Christian pacificism. Studdert Kennedy was also a tireless champion of the social gospel who wrote a dozen books, scores of articles, hundreds of poems, and preached countless sermons in both the UK and the US promoting economic justice. Studdert Kennedy's writing and preaching influenced an entire generation. William Temple, Archbishop of Canterbury, described him as a ""true prophet."" Even though he's fallen into obscurity with the passage of years, Studdert Kennedy's message still inspires the likes of Desmond Tutu and Jurgen Moltmann. This collection of Studdert Kennedy's work, the first in sixty years, seeks to introduce this most relevant of thinkers to our troubled times. The book pulls together Studdert Kennedy's most important writings on war and peace, poverty, the problem of evil, the church's role in the world, sin and atonement, the suffering God, love versus force as world powers, and the beloved community. Editor Kerry Walters introduces the texts with a biographical and thematic essay. Endorsements: ""Kerry Walters and Cascade Books deserve our thanks for retrieving for us in the twenty-first century, embroiled as we are in various violent conflicts, an accessible and coherent presentation of Studdert Kennedy's early twentieth-century religious thought on war and its aftermath. Earning the nickname 'Woodbine Willie' from English soldiers he served as chaplain in the 'Great War to end all wars, ' the cigarette-smoking padre knew firsthand the unspeakable horrors of war. He also knew that faith was not only possible after the hostilities ceased; it was necessary. ""His was not a disembodied or privatized faith. He is especially helpful in linking the Eucharist with social justice. Although fellow Anglicans and interested Protestants may well treasure this collection of Studdert Kennedy's writing, Roman Catholics like myself will appreciate his passionate love for the poor, wounded, and dying Christ and his commitment to the church, where he and others can insist that, indeed, after war faith is possible."" John Perry, SJ Associate Professor, Arthur V. Mauro Center for Peace and Justice, St. Paul's College, University of Manitoba, Winnipeg, Canada About the Contributor(s): Kerry Walters is William Bittinger Professor of Philosophy and Professor of Peace and Justice Studies at Gettysburg College. He is the author of 19 previous books on philosophy, theology, and peace, and has been a peace activist since the Vietnam War era."

- Publisher
You May Also Be Interested In
About "After War, is Faith Possible?"
Description: ""There are no words foul and filthy enough to describe war."" So declared Geoffrey ""Woodbine Willie"" Studdert Kennedy (1883-1929), a decorated frontline chaplain whose battlefield experiences in World War I transformed him into his generation's most eloquent defender of Christian pacificism. Studdert Kennedy was also a tireless champion of the social gospel who wrote a dozen books, scores of articles, hundreds of poems, and preached countless sermons in both the UK and the US promoting economic justice. Studdert Kennedy's writing and preaching influenced an entire generation. William Temple, Archbishop of Canterbury, described him as a ""true prophet."" Even though he's fallen into obscurity with the passage of years, Studdert Kennedy's message still inspires the likes of Desmond Tutu and Jurgen Moltmann. This collection of Studdert Kennedy's work, the first in sixty years, seeks to introduce this most relevant of thinkers to our troubled times. The book pulls together Studdert Kennedy's most important writings on war and peace, poverty, the problem of evil, the church's role in the world, sin and atonement, the suffering God, love versus force as world powers, and the beloved community. Editor Kerry Walters introduces the texts with a biographical and thematic essay. Endorsements: ""Kerry Walters and Cascade Books deserve our thanks for retrieving for us in the twenty-first century, embroiled as we are in various violent conflicts, an accessible and coherent presentation of Studdert Kennedy's early twentieth-century religious thought on war and its aftermath. Earning the nickname 'Woodbine Willie' from English soldiers he served as chaplain in the 'Great War to end all wars, ' the cigarette-smoking padre knew firsthand the unspeakable horrors of war. He also knew that faith was not only possible after the hostilities ceased; it was necessary. ""His was not a disembodied or privatized faith. He is especially helpful in linking the Eucharist with social justice. Although fellow Anglicans and interested Protestants may well treasure this collection of Studdert Kennedy's writing, Roman Catholics like myself will appreciate his passionate love for the poor, wounded, and dying Christ and his commitment to the church, where he and others can insist that, indeed, after war faith is possible."" John Perry, SJ Associate Professor, Arthur V. Mauro Center for Peace and Justice, St. Paul's College, University of Manitoba, Winnipeg, Canada About the Contributor(s): Kerry Walters is William Bittinger Professor of Philosophy and Professor of Peace and Justice Studies at Gettysburg College. He is the author of 19 previous books on philosophy, theology, and peace, and has been a peace activist since the Vietnam War era."
- Publisher