Against the Tide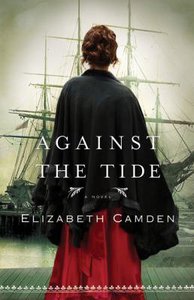 Love and Lives are Threatened in Camden's Latest Offering

As a child, Lydia Pallas became all too familiar with uncertainty when it came to the future. Now, she's finally carved out a perfect life for herself--a life of stability and order with no changes, surprises, or chaos of any kind. She adores her apartment overlooking the bustling Boston Harbor, and her skill with languages has landed her a secure position as a translator for the U.S. Navy.

However, it is her talent for translation that brings her into contact with Alexander Banebridge, or "Bane," a man who equally attracts and aggravates her. When Bane hires Lydia to translate a seemingly innocuous collection of European documents, she hesitantly agrees, only to discover she is in over her head.

Just as Bane's charm begins to win her over, Lydia learns he is driven by a secret campaign against some of the most dangerous criminals on the East Coast, compelled by his faith and his past. Bane forbids any involvement on Lydia's part, but when the criminals gain the upper hand, it is Lydia on whom he must depend.

- Publisher
You May Also Be Interested In
About "Against the Tide"
Love and Lives are Threatened in Camden's Latest Offering

As a child, Lydia Pallas became all too familiar with uncertainty when it came to the future. Now, she's finally carved out a perfect life for herself--a life of stability and order with no changes, surprises, or chaos of any kind. She adores her apartment overlooking the bustling Boston Harbor, and her skill with languages has landed her a secure position as a translator for the U.S. Navy.

However, it is her talent for translation that brings her into contact with Alexander Banebridge, or "Bane," a man who equally attracts and aggravates her. When Bane hires Lydia to translate a seemingly innocuous collection of European documents, she hesitantly agrees, only to discover she is in over her head.

Just as Bane's charm begins to win her over, Lydia learns he is driven by a secret campaign against some of the most dangerous criminals on the East Coast, compelled by his faith and his past. Bane forbids any involvement on Lydia's part, but when the criminals gain the upper hand, it is Lydia on whom he must depend.
- Publisher


Meet the Author
Elizabeth Camden
Elizabeth Camden, author of "The Lady of Bolton Hill" and "The Rose of Winslow Stree"t, received a master's in history from University of Virginia and a master's in library science from Indiana University. She is a research librarian by day and scribbles away on her next novel by night. Elizabeth is a member of ACFW and RWA and lives with her husband in Florida. Visit her website at ElizabethCamden.com A
Customer Reviews For "Against the Tide"
Write Your Own Review
Triumphantly Redemptive
By becinchina,

May 22 2017
An uplifting and inspiring tale of the Father's ability to turn all things for good in His perfect timing. Courage.
---
Gripping story
By Bryony,

Jan 15 2016
This one was very hard to put down! More than your usual romance, I enjoyed learning about the opium troubles of the past
---
Well written and interesting
By Lynne Stringer,

May 07 2015
 spoiler alert  I enjoyed Against the Tide generally. The story was interesting and different and seems well-researched. However, I found it difficult to warm to the characters. I had already encountered Alexander Banefield and he was fascinating but his continual stubbornness and the blatant way he uses the woman he loves made it difficult to warm to him. He does redeem himself in the end but my problems in trying to engage and care about the characters didn't abate. I do think it was well written and it is an interesting story so it may have just been a personal thing. They didn't gel with me but they might with someone else.
---
Amazing!!
By Carola,

Jul 29 2013
I have never actually finished reading any book of Camden's before, although I have started reading one. So it is safe to say I had no idea what to expect. And my speculations certainly could never have lived up to the standards of this amazingly crafted story that is just brimmed with suspense, romance and history I had no idea about.
 
Bane and Lydia hadn't even met yet and their attraction for each other was evident. With Bane's annoying and flirtatious nature and Lydia's perfect and need for control, it was clear from the beginning that this is going to be a relationship enjoyable to watch, which it was. As the story progressed it was clear that they were a match made in heaven, completely perfect for each other. When times got tough, the care Bane bestowed upon Lydia was just something able to be dreamed of. However strangely enough it wasn't my highlight of the novel.
 What really captured my attention with this novel was the history Camden revealed about the opium trade and how powerful it was, as well as the dangers taken to prevent there sales, or the struggle that is needed to overcome its addiction. I loved how Camden made this the focal point of the novel, which was followed by the dangers Bane and Lydia had to embark for the general good of everyone. 

Camden also wrote the book in such an interesting manner that I felt I got to know Lydia and Bane in a personal way. Although at the beginning the first couple chapters were about their childhoods and I kept on thinking "What is this going to be good for?", it paid off in the end (as it always does!!) because it gave me an understanding of what shaped them to be the person they are today, where sympathy was especially evoked for Lydia. 

Overall I just love the rich information this novel provided and I can definitely see myself reading it in the future!! For those interested in a history lesson regarding the opium trade of America in the 1800s, then I highly recommend this novel, especially if you also enjoy your romances. 

---
Lovely
By Jessica R Wakefield,

Jan 07 2013
I'll just start with the cover - gorgeous, gorgeous and more gorgeous! The whole image just captured my attention and was begging for me to pick it up and find out what was inside.

Now to the actual story.We met Bane before in Elizabeth's first book The Lady of Bolton Hill and he's a character that stays with you for a long time. When I found out that Bane was to be the subject of this book I was so excited.We really get to know Bane in this book. Much of the previous time with Bane was seeing him at his worst. This time around we get to see deeper into what drives him but also his sense of humour. His playfulness with Lydia hides not only his deep affection for her but his need to protect himself and her from the sins of his past that will forever (as far as he's concerned) be chasing him.

Lydia is a great asset to Bane. Not only can she translate what he needs, but she is a dreamer and forever looking at the bright side of a situation. Her determination matches Bane's and together they are a force to be reckoned with. It takes these two a little while to figure out they're meant to be together and then to overcome the obstacles keeping them apart. Overall it's a wonderful journey filled with humour, suspense, romance and drama.

A very enjoyable read and oh my that cover!
{{review.title}}
By {{review.author.name}},

{{review.reviewCreatedDate | date:'MMM dd yyyy'}}

{{reviewdescription}}
{{review.text}}
---