Agents of Babylon: What the Prophecies of Daniel Tell Us About the End of Days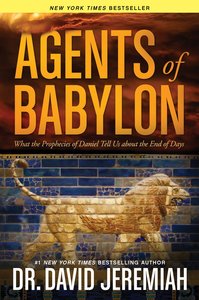 :In his #1 New York Times bestseller Agents of the Apocalypse, noted prophecy expert Dr. David Jeremiah explored the book of Revelation through the lens of its major players. Now, in the much-anticipated follow-up, Agents of Babylon, Dr. Jeremiah examines prophecy through the eyes of the characters in the book of Daniel, explains what the prophecies mean, and helps us understand how these prophetic visions and dreams apply to our lives today. Written in the same highly engaging half dramatization, half Bible teaching format as Agents of the Apocalypse, Agents of Babylon is not only an in-depth exploration of the characters and prophecies contained in the book of Daniel but also a dramatic retelling of Scripture that is sure to bring ancient prophecy to light like never before.

- Publisher
You May Also Be Interested In
About "Agents of Babylon: What the Prophecies of Daniel Tell Us About the End of Days"
:In his #1 New York Times bestseller Agents of the Apocalypse, noted prophecy expert Dr. David Jeremiah explored the book of Revelation through the lens of its major players. Now, in the much-anticipated follow-up, Agents of Babylon, Dr. Jeremiah examines prophecy through the eyes of the characters in the book of Daniel, explains what the prophecies mean, and helps us understand how these prophetic visions and dreams apply to our lives today. Written in the same highly engaging half dramatization, half Bible teaching format as Agents of the Apocalypse, Agents of Babylon is not only an in-depth exploration of the characters and prophecies contained in the book of Daniel but also a dramatic retelling of Scripture that is sure to bring ancient prophecy to light like never before.
- Publisher


Meet the Author
David Jeremiah
David Jeremiah is the founder of Turning Point, an international ministry committed to providing Christians with sound Bible teaching through radio and television, the Internet, live events, and resource materials and books. He is the author of more than fifty books including Is This the End, The Spiritual Warfare Answer Book, The David Jeremiah Morning and Evening Devotional, and Airship Genesis Kids Study Bible.

David serves as the senior pastor of Shadow Mountain Community Church in San Diego, California, where he resides with his wife, Donna. They have four grown children and twelve grandchildren.