Aldo's Fantastical Movie Palace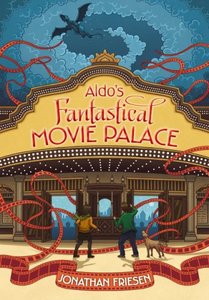 In The Darkness of This Theater, Miracles Can Happen The broken-down theater seems a safe place for Chloe. In there, no one can see the scars that line her face---scars her inventor father accidentally caused, leaving even deeper wounds between them. There in the darkness she meets Nick, a boy with his own hurt, and his guide dog. Their friendship would change everything. For when Nick and Chloe write a movie script, it comes mysteriously to life, transporting them into the very world they'd imagined. But when tragedy strikes, Chloe must find the courage to step out of the shadows and find what she's always longed for.

- Publisher
You May Also Be Interested In
About "Aldo's Fantastical Movie Palace"
In The Darkness of This Theater, Miracles Can Happen The broken-down theater seems a safe place for Chloe. In there, no one can see the scars that line her face---scars her inventor father accidentally caused, leaving even deeper wounds between them. There in the darkness she meets Nick, a boy with his own hurt, and his guide dog. Their friendship would change everything. For when Nick and Chloe write a movie script, it comes mysteriously to life, transporting them into the very world they'd imagined. But when tragedy strikes, Chloe must find the courage to step out of the shadows and find what she's always longed for.
- Publisher


Meet the Author
Jonathan Friesen
Jonathan Friesen is an author, speaker, and youth writing coach from Mora, Minnesota. His first young adult novel, Jerk, California, received the ALA Schneider Award. When heÆs not writing, speaking at schools, or teaching, Jonathan loves to travel and hang out with his wife and three kids.