Alive in the Spirit (New Tozer Collection Series)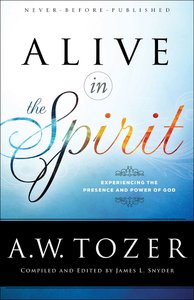 Dynamic, Never-Before-Published Work on the Holy Spirit from A.W. Tozer

What does it mean to have the Holy Spirit in our lives? Many look to extraordinary experiences and manifestations as evidence of the Spirit. But what happens when the event is over? How can we experience the Holy Spirit in the ordinary, everyday world? How can we be filled with the Spirit?

In this material taken from Tozer's sermons, he answers these questions and explores life in the Spirit from a balanced perspective. The church needs the gifts of the Spirit--all of them--or it will never be what God intends it to be. But this has to happen in wisdom and humility.

Many people talk about being filled with the Holy Spirit, but very few accept the conditions for being filled. Tozer lays down requirements for the Holy Spirit to come into our lives and transform us into Spirit-filled people. Though every Christian has the Holy Spirit, not every Christian is filled with the Holy Spirit. He explains the difference and how it could change the evangelical church of today.

- Publisher
You May Also Be Interested In
About "Alive in the Spirit (New Tozer Collection Series)"
Dynamic, Never-Before-Published Work on the Holy Spirit from A.W. Tozer

What does it mean to have the Holy Spirit in our lives? Many look to extraordinary experiences and manifestations as evidence of the Spirit. But what happens when the event is over? How can we experience the Holy Spirit in the ordinary, everyday world? How can we be filled with the Spirit?

In this material taken from Tozer's sermons, he answers these questions and explores life in the Spirit from a balanced perspective. The church needs the gifts of the Spirit--all of them--or it will never be what God intends it to be. But this has to happen in wisdom and humility.

Many people talk about being filled with the Holy Spirit, but very few accept the conditions for being filled. Tozer lays down requirements for the Holy Spirit to come into our lives and transform us into Spirit-filled people. Though every Christian has the Holy Spirit, not every Christian is filled with the Holy Spirit. He explains the difference and how it could change the evangelical church of today.
- Publisher


Meet the Author
A W Tozer
A. W. Tozer died in 1963, but his life and spiritual legacy continue to draw many into a deeper knowledge of God. During his lifetime, Tozer pastored several Christian and Missionary Alliance churches. Missions and the deeper life in Christ were his primary focus. He also served as editor of the Alliance Life. Tozer authored more than 40 books, (at least two of which are considered classics: The Pursuit of God and Knowledge of the Holy), a tremendous accomplishment for a man who never received a formal theological education. The presence of God was his classroom, his notebooks and tools consisted of prayer, God's Word, and the writings of early Christians and theologians, the Puritans, and great men of faith. - Publisher.
Other Titles In The "New Tozer Collection Series" Series View All