All But Invisible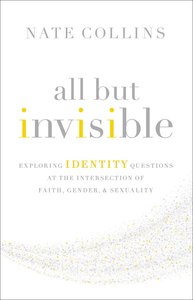 What does it mean to be gay ... and a Christian? Beginning with how the Bible describes the Church, author Nate Collins outlines a vision for community life that challenges Christians to examine obstacles that inhibit spiritual unity. This new vision calls straight and non-straight believers alike to patterns of Christian obedience that respect and honor their similarities and differences.In addition, Collins provides a theological framework for understanding how Genesis 1-2 describes both gender and sexuality. He then unpacks biblical concepts like desire, lust, and temptation, and applies them to modern constructs like sexual attraction and orientation.Collins explores the theme of identity, focusing on facets of personal identity that are central to the experience of Christian gender minorities. He looks at what Scripture says about the formation and function of Christian identity, highlighting several theological and sociological tensions. Collins writes for believers who have a traditional sexual ethic and provides a compelling vision of gospel flourishing for gay, lesbian, and other same-sex attracted individuals.

- Publisher
You May Also Be Interested In
About "All But Invisible"
What does it mean to be gay ... and a Christian? Beginning with how the Bible describes the Church, author Nate Collins outlines a vision for community life that challenges Christians to examine obstacles that inhibit spiritual unity. This new vision calls straight and non-straight believers alike to patterns of Christian obedience that respect and honor their similarities and differences.In addition, Collins provides a theological framework for understanding how Genesis 1-2 describes both gender and sexuality. He then unpacks biblical concepts like desire, lust, and temptation, and applies them to modern constructs like sexual attraction and orientation.Collins explores the theme of identity, focusing on facets of personal identity that are central to the experience of Christian gender minorities. He looks at what Scripture says about the formation and function of Christian identity, highlighting several theological and sociological tensions. Collins writes for believers who have a traditional sexual ethic and provides a compelling vision of gospel flourishing for gay, lesbian, and other same-sex attracted individuals.
- Publisher


Meet the Author
Nate Collins
Nate Collins is an Instructor of New Testament Interpretation at the Southern Baptist Theological seminary and a partner associate at The Sight Ministry, a Christian organization based in Nashville, Tennessee that provides resources and support for individuals, families, and churches regarding LGBT issues. He also serves on the board of directors of LOVEboldly, a non-profit 501(c)3 organization that promotes reconciliation to God, self, and others at the intersection of faith, sexuality, and gender identity.Speaking from his own unique experience as a married non-straight/gay man who is a husband, father, and follower of Christ, he is a vocal proponent of extending and receiving community with LGBT individuals both inside and outside the Church. He has been married to his wife, Sara, for 12 years and they have three young sons.
Table Of Contents
What Does It Mean To Be Gay ... And A Christian? Beginning With How The Bible Describes The Church, Author Nate Collins Outlines A Vision For Community Life That Challenges Christians To Examine Obstacles That Inhibit Spiritual Unity. This New Vision Calls Straight And Non-straight Believers Alike To Patterns Of Christian Obedience That Respect And Honor Their Similarities And Differences.in Addition, Collins Provides A Theological Framework For Understanding How Genesis 1-2 Describes Both Gender And Sexuality. He Then Unpacks Biblical Concepts Like Desire, Lust, And Temptation, And Applies Them To Modern Constructs Like Sexual Attraction And Orientation.collins Explores The Theme Of Identity, Focusing On Facets Of Personal Identity That Are Central To The Experience Of Christian Gender Minorities. He Looks At What Scripture Says About The Formation And Function Of Christian Identity, Highlighting Several Theological And Sociological Tensions. Collins Writes For Believers Who Have A Traditional Sexual Ethic And Provides A Compelling Vision Of Gospel Flourishing For Gay, Lesbian, And Other Same-sex Attracted Individuals.