All Heaven Will Break Loose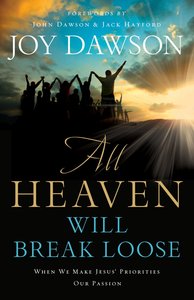 What is the Key to World Evangelism?

All heaven will break loose when God's glory is on display among His people--to the degree that unbelievers will say, "Wow! This is something else ... and we want it!"

So what releases God's glory in this dimension?

When we understand--and live out--the unity Jesus prayed for in John 17:21-22.

In Joy Dawson's engaging, conversational, forthright style, she has given us a biblical and thought-provoking case for both the need and the how-to, to live in the unity Jesus prayed for.

"Joy's biblical and practical examples of the working of the Holy Spirit are inspiring and truly offer hope to anyone who believes in the power of God to unify the Body of Christ. The tone of humility with which Joy penned this work is a wonderful example to us all."--Mrs. Vonette Bright, co-founder, Campus Crusade for Christ (now Cru in the U.S.)

"Joy Dawson (Mom to me) has given us possibly her most important book because it gets to the heart of what ails us as Christians, and presents the solution. I am delighted and encouraged."--John Dawson, international president emeritus, Youth With A Mission

"Joy Dawson is a gifted master-teacher and prophetic voice. In a very real and dynamic sense, this book has been given to her as a 'word from heaven' and should shake us up to act upon it. It has shaken me anew."--Jack Hayford, chancellor, The King's University; founding pastor, The Church On The Way

- Publisher
You May Also Be Interested In
About "All Heaven Will Break Loose"
What is the Key to World Evangelism?

All heaven will break loose when God's glory is on display among His people--to the degree that unbelievers will say, "Wow! This is something else ... and we want it!"

So what releases God's glory in this dimension?

When we understand--and live out--the unity Jesus prayed for in John 17:21-22.

In Joy Dawson's engaging, conversational, forthright style, she has given us a biblical and thought-provoking case for both the need and the how-to, to live in the unity Jesus prayed for.

"Joy's biblical and practical examples of the working of the Holy Spirit are inspiring and truly offer hope to anyone who believes in the power of God to unify the Body of Christ. The tone of humility with which Joy penned this work is a wonderful example to us all."--Mrs. Vonette Bright, co-founder, Campus Crusade for Christ (now Cru in the U.S.)

"Joy Dawson (Mom to me) has given us possibly her most important book because it gets to the heart of what ails us as Christians, and presents the solution. I am delighted and encouraged."--John Dawson, international president emeritus, Youth With A Mission

"Joy Dawson is a gifted master-teacher and prophetic voice. In a very real and dynamic sense, this book has been given to her as a 'word from heaven' and should shake us up to act upon it. It has shaken me anew."--Jack Hayford, chancellor, The King's University; founding pastor, The Church On The Way
- Publisher


Meet the Author
Joy Dawson
Joy Dawson has been traveling and teaching the Bible internationally since 1970. Her missionary journeys have taken her to more than fifty-five nations. A member of the US National Prayer Committee, Dawson is a recognized leader in revival prayer and intercession. She and her husband, Jim, live in Tujunga, California.