All She Left Behind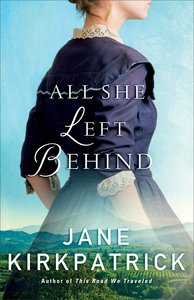 Already well-versed in the natural healing properties of herbs and oils, Jennie Pickett longs to become a doctor. But the Oregon frontier of the 1870s doesn't approve of such innovations as women attending medical school. To leave grief and guilt behind, as well as support herself and her challenging young son, Jennie cares for an elderly woman using skills she's developed on her own. When her patient dies, Jennie discovers that her heart has become entangled with the woman's widowed husband, a man many years her senior. Their unlikely romance may lead her to her ultimate goal--but the road will be winding and the way forward will not always be clear. Will Jennie find shelter in life's storms? Will she discover where healing truly lives?

Through her award-winning, layered storytelling, New York Times bestselling author Jane Kirkpatrick invites readers to leave behind their preconceived notions about love and life as they, along with Jennie, discover that dreams may be deferred--but they never really die. Based on a true story.

- Publisher
You May Also Be Interested In
About "All She Left Behind"
Already well-versed in the natural healing properties of herbs and oils, Jennie Pickett longs to become a doctor. But the Oregon frontier of the 1870s doesn't approve of such innovations as women attending medical school. To leave grief and guilt behind, as well as support herself and her challenging young son, Jennie cares for an elderly woman using skills she's developed on her own. When her patient dies, Jennie discovers that her heart has become entangled with the woman's widowed husband, a man many years her senior. Their unlikely romance may lead her to her ultimate goal--but the road will be winding and the way forward will not always be clear. Will Jennie find shelter in life's storms? Will she discover where healing truly lives?

Through her award-winning, layered storytelling, New York Times bestselling author Jane Kirkpatrick invites readers to leave behind their preconceived notions about love and life as they, along with Jennie, discover that dreams may be deferred--but they never really die. Based on a true story.
- Publisher


Meet the Author
Jane Kirkpatrick
Jane Kirkpatrick is the author of twenty-five books and is a two-time winner of the WILLA Literary Award. Her first novel, A Sweetness to the Soul, won the Western Heritage Wrangler Award, an honor given to writers such as Barbara Kingsolver and Larry McMurtry. For twenty-six years she 'homesteaded' with her husband Jerry on a remote ranch in Eastern Oregon. She now lives with Jerry, and her two dogs and one cat on small acreage in Central Oregon while she savors the value of friendship over fame.