All Things New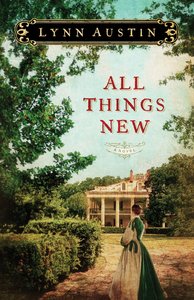 New Historical Novel from 7-Time Christy Award Winner!

In the aftermath of the Civil War, Josephine Weatherly and her mother, Eugenia, struggle to pick up the pieces of their lives when they return to their Virginia plantation. But the bitter realities of life after the war cannot be denied: their home and land are but shells of their previous grandeur; death has claimed her father and brother; and her remaining brother, Daniel, has returned home bitter and broken. The privileged childhood Josephine enjoyed now seems like a long-ago dream. And the God who failed to answer any of her prayers during the war is lost to her as well.

Josephine soon realizes that life is now a matter of daily survival--and recognizes that Lizzie, as one of the few remaining servants, is the one she must rely on to teach her all she needs to know. Josephine's mother, too, vows to rebuild White Oak...but a bitter hatred fuels her.

With skill and emotion, Lynn Austin brings to life the difficult years of the Reconstruction era by interweaving the stories of three women--daughter, mother, and freed slave--in a riveting tale.

- Publisher
You May Also Be Interested In
About "All Things New"
New Historical Novel from 7-Time Christy Award Winner!

In the aftermath of the Civil War, Josephine Weatherly and her mother, Eugenia, struggle to pick up the pieces of their lives when they return to their Virginia plantation. But the bitter realities of life after the war cannot be denied: their home and land are but shells of their previous grandeur; death has claimed her father and brother; and her remaining brother, Daniel, has returned home bitter and broken. The privileged childhood Josephine enjoyed now seems like a long-ago dream. And the God who failed to answer any of her prayers during the war is lost to her as well.

Josephine soon realizes that life is now a matter of daily survival--and recognizes that Lizzie, as one of the few remaining servants, is the one she must rely on to teach her all she needs to know. Josephine's mother, too, vows to rebuild White Oak...but a bitter hatred fuels her.

With skill and emotion, Lynn Austin brings to life the difficult years of the Reconstruction era by interweaving the stories of three women--daughter, mother, and freed slave--in a riveting tale.
- Publisher


Meet the Author
Lynn Austin
Lynn Austin has authored several works of fiction, including Candle in the Darkness and Hidden Places, both winners of Christy Awards. In addition to writing, Lynn is a popular speaker at conferences, retreats, and various church and school events. She and her husband have three children and make their home in Illinois.
Customer Reviews For "All Things New"
Write Your Own Review
Too Many Characters
By Iola,

Oct 26 2012
In the closing days of the American Civil War, the inhabitants of Richmond, Virginia, are packing up their belongings to flee for their lives in advance of the invading Yankee army. Josephine Weatherly of White Oak Plantation, aged 22, has lost her father, her brother, and her faith in God during the war. Her mother, Eugenia, has lost an entire way of life and must work out how to hold her home and family together in this new world. Lizzie was a slave the plantation who is now free, but has no idea what that means. The story is told in the third person, alternating between the viewpoints of these three characters. I immediately liked Jo and Lizzie, but found Eugenia very annoying. She was nave, expecting everything to return to how it was before the war, although I did come to admire the way she slowly began to think and act for herself, rather than relying on the old ways. Lynn Austin's previous Civil War series (Refiner's Fire) told the story of the  War Between The States from the point of view of a Southern woman, a Northern woman and a slave, and the books were outstanding (if you haven't read them, then do. Two of the three won Christy Awards). All Things New was good, but not great. The writing was excellent, but was let down by too many characters and too many subplots. I thought the three points of view were almost trying to do too much: perhaps this would have been better as three separate books.

Thanks to Baker Publishing and Netgalley for providing a free ebook for review. 
{{review.title}}
By {{review.author.name}},

{{review.reviewCreatedDate | date:'MMM dd yyyy'}}

{{reviewdescription}}
{{review.text}}
---