All Through the Night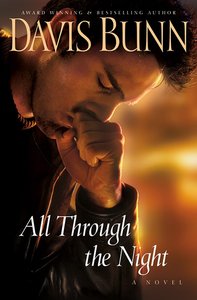 Wayne, scarred physically and emotionally, has a background in special-ops he's trying to forget. But he gets his arm twisted into helping a quirky group of seniors who've been scammed out of their retirement. Breaching the con man's high-security island estate, Wayne recovers the stolen money in an action sequence worthy of a Hollywood blockbuster. Case closed.
A savvy young lawyer, though, is intrigued by Wayne's success and wants to hire him to crack another puzzling case. Tatyana's wealthy employer thinks he's been visited by...an angel? Did a messenger from God in a pinstripe suit truly bring a divine warning, or is this merely another cruel hoax?
As the two battle unknown enemies within and without, Tatyana fears for her boss's life. She must trust Wayne to solve the mystery, but can she trust him with her heart? Wayne's cynical veneer begins to crack as Tatyana's confidence allows a chance to glimpse himself in a new light. What if he were visited by an angel? With a whispered message, a world of possibilities unfolds.

- Publisher
You May Also Be Interested In
About "All Through the Night"
Wayne, scarred physically and emotionally, has a background in special-ops he's trying to forget. But he gets his arm twisted into helping a quirky group of seniors who've been scammed out of their retirement. Breaching the con man's high-security island estate, Wayne recovers the stolen money in an action sequence worthy of a Hollywood blockbuster. Case closed.
A savvy young lawyer, though, is intrigued by Wayne's success and wants to hire him to crack another puzzling case. Tatyana's wealthy employer thinks he's been visited by...an angel? Did a messenger from God in a pinstripe suit truly bring a divine warning, or is this merely another cruel hoax?
As the two battle unknown enemies within and without, Tatyana fears for her boss's life. She must trust Wayne to solve the mystery, but can she trust him with her heart? Wayne's cynical veneer begins to crack as Tatyana's confidence allows a chance to glimpse himself in a new light. What if he were visited by an angel? With a whispered message, a world of possibilities unfolds.
- Publisher


Meet the Author
Davis Bunn
Davis Bunn is an internationally-acclaimed author who has sold more than four million books in fifteen languages. Honoured with three Christy Awards for excellence in historical and suspense fiction, he has written several bestsellers, including The Great Divide, Winner Take All, The Meeting Place, The Book of Hours, Drummer in the Dark, To the Ends of the Earth, and The Quilt. Davis is also the co-author of the Song of Acadia series with Janette Oke. A sought-after lecturer in the art of writing, Davis Bunn has been named Novelist in Residence at Regent's Park College, Oxford University.