All You Need to Know (#08 in Hidden Falls Series)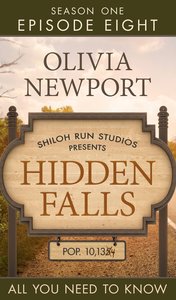 Hidden Falls - A Suspenseful13-Part Serial Novel from Shiloh Run Studios
Quinn would want life to carry on. There's much to do and one day left to do it before the health fair. Adding to her list of tasks, Lauren resolves to confront the bully from her past-and is stunned in a way she never dreamed. Jack makes some interesting connections, professionally and personally, as he digs through old legal files. Maybe Hidden Falls won't be so dull after all. Liam would give anything for dull, ordinary life again. He's at the end of his rope, but he can't hide forever. Will confessing to Dani make things better or worse? Nicole and Ethan want to find Quinn, but they can't deny they're reconnecting because of his absence. Together, they gain access to old records at the cemetery-and learn that Quinn was intrigued by them, too. Sylvia wrestles with the decision whether to open the box from her attic. Quinn's box. Of course she's curious, but will opening it betray his trust-or worse, concede he might never come home?
Don't miss a single episode of Season 1&...
Episode 1 - Ordinary Secrets
Episode 2 - Losing Quinn
Episode 3 - A Town in Trouble
Episode 4 - Unexpected Hero
Episode 5 - The Mayor's Quandary
Episode 6 - No Time for Answers
Episode 7 - Yesterday's Promise
Episode 8 - All You Need to Know
Episode 9 - A Fair Refuge
Episode 10 - One Familiar Tune
Episode 11 -- When Memory Came
Episode 12 - The Groundskeeper Remembered
Episode 13 - Distinguishing Marks
Think you know what happens next? You're in for a surprise!
- Publisher
You May Also Be Interested In
About "All You Need to Know (#08 in Hidden Falls Series)"
Hidden Falls - A Suspenseful13-Part Serial Novel from Shiloh Run Studios

Quinn would want life to carry on. There's much to do and one day left to do it before the health fair. Adding to her list of tasks, Lauren resolves to confront the bully from her past-and is stunned in a way she never dreamed. Jack makes some interesting connections, professionally and personally, as he digs through old legal files. Maybe Hidden Falls won't be so dull after all. Liam would give anything for dull, ordinary life again. He's at the end of his rope, but he can't hide forever. Will confessing to Dani make things better or worse? Nicole and Ethan want to find Quinn, but they can't deny they're reconnecting because of his absence. Together, they gain access to old records at the cemetery-and learn that Quinn was intrigued by them, too. Sylvia wrestles with the decision whether to open the box from her attic. Quinn's box. Of course she's curious, but will opening it betray his trust-or worse, concede he might never come home?


Don't miss a single episode of Season 1&...
Episode 1 - Ordinary Secrets
Episode 2 - Losing Quinn
Episode 3 - A Town in Trouble
Episode 4 - Unexpected Hero
Episode 5 - The Mayor's Quandary
Episode 6 - No Time for Answers
Episode 7 - Yesterday's Promise
Episode 8 - All You Need to Know
Episode 9 - A Fair Refuge
Episode 10 - One Familiar Tune
Episode 11 -- When Memory Came
Episode 12 - The Groundskeeper Remembered
Episode 13 - Distinguishing Marks

Think you know what happens next? You're in for a surprise!
- Publisher


Meet the Author
Olivia Newport
<DIV><P>Olivia Newport&#8217;s novels twist through time to find where faith and passions meet. Her husband and two twentysomething children provide welcome distraction from the people stomping through her head on their way into her books. She chases joy in stunning Colorado at the foot of the Rockies, where daylilies grow as tall as she is.</DIV>
Other Titles In The "Hidden Falls" Series View All