Alleged Discrepancies of the Bible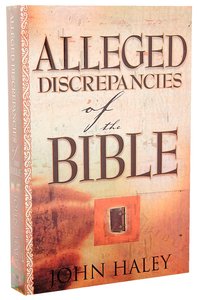 In this fascinating study, John Haley removes the mystery surrounding misunderstood passages and supposed contradictions found in the Bible. Confusing scriptural texts are explained, and answers to the sceptics' toughest questions are answered in an understandable and straightforward manner. No longer do you need to fear situations in which family or friends challenge your faith by bringing up what they say is an obvious discrepancy in the Bible. Empowered with the insights found in this book, you can confidently and convincingly answer their questions as you share the truth of God's Word. Explore apparent doctrinal, ethical, and historical discrepancies as the author addresses issues such as mankind's relation to the present and future, the duty of man to God, and misconstrued names, dates, and places. With a complete bibliographical appendix and a general topical index, Alleged Discrepancies of the Bible is sure to be a volume youll keep close at hand as you study God's Word.



- Publisher In Alleged Discrepancies of the Bible, John Haley directly addresses questions surrounding common misunderstandings of Scripture. This book is essential for your personal library because it explains questionable passages, helps answer skeptics' questions, and contains valuable resource material. Haley lifts the mystery surrounding the supposed contradictions in the Bible and sheds new light on confusing passages. As you study God's Word and see His purposes unfold in your life, you will experience a new power and love for living!

- Publisher
You May Also Be Interested In
About "Alleged Discrepancies of the Bible"
In this fascinating study, John Haley removes the mystery surrounding misunderstood passages and supposed contradictions found in the Bible. Confusing scriptural texts are explained, and answers to the sceptics' toughest questions are answered in an understandable and straightforward manner. No longer do you need to fear situations in which family or friends challenge your faith by bringing up what they say is an obvious discrepancy in the Bible. Empowered with the insights found in this book, you can confidently and convincingly answer their questions as you share the truth of God's Word. Explore apparent doctrinal, ethical, and historical discrepancies as the author addresses issues such as mankind's relation to the present and future, the duty of man to God, and misconstrued names, dates, and places. With a complete bibliographical appendix and a general topical index, Alleged Discrepancies of the Bible is sure to be a volume youll keep close at hand as you study God's Word.


- Publisher

In Alleged Discrepancies of the Bible, John Haley directly addresses questions surrounding common misunderstandings of Scripture. This book is essential for your personal library because it explains questionable passages, helps answer skeptics' questions, and contains valuable resource material. Haley lifts the mystery surrounding the supposed contradictions in the Bible and sheds new light on confusing passages. As you study God's Word and see His purposes unfold in your life, you will experience a new power and love for living!
- Publisher


Meet the Author
John Haley
John William Haley (1834-1927) was a late nineteenth century biblical scholar, linguist, and Christian apologist.
Table Of Contents
Acknowledgmentsintroductionpart Ichapter 1--origin Of The Discrepancies1. Difference Of Dates Of Passages2. Differences Of Authorship3. Differences Of Standpoint Or Of Object4. Different Methods Of Arrangement5. Different Methods Of Computation6. Peculiarities Of Oriental Idiom7. Plurality Of Names Or Synonyms8. Diverse Meanings Of Same Word9. Errors In The Manuscripts10. Imagination Of Criticchapter 2--design Of The Discrepancies1. To Stimulate The Intellect2. Illustrate Analogy Of Bible And Nature3. Disprove Collusion Of Sacred Writers4. Lead To Value The Spirit Above The Letter Of The Bible5. Serve As A Test Of Moral Characterchapter 3--results Of The Discrepancies1.text Of Bible Not Unsettled2. Moral Influence Of The Bible Not Impairedpart Iichapter 4--doctrinal Discrepancies1. God--omnipotence2. Christ--his Divinity3. Holy Spirit--personality4. The Scriptures--inspiration5. Man, In Relation To The Present--creation6. Man, In Relation To The Future--deathchapter 5--ethical Discrepancies1. Duty Of Man--toward God2. Duty Of Man--to Himself3. Duty Of Man--to His Fellowmenchapter 6--historical Discrepancies1. Concerning Persons--names, Etc.2. Concerning Places3. Concerning Numbers4. Concerning Time5. Miscellaneousbibliographical Appendixlist Of Scripture Citationsgeneral Index