Along Came Jones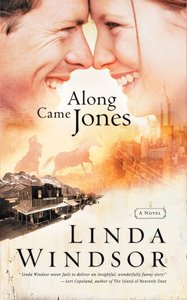 Diana Wells lost track of God in her hard-earned quest for success in the New York advertising world. Now she's accused of embezzlement, fleeing for her life with nowhere else to turn. When trail outfitter Shepherd Jones runs Diana's car off the road, the ex - U.S. Marshal isn't sure what to make of his comely stray. Instinct says this duchess of disaster is on the run and needs help - a girl like her can't last long in the forsaken outpost of Buffalo Butte. But is Shep willing to risk his life and his heart to offer her the same refuge God once provided him?
You May Also Be Interested In
About "Along Came Jones"
Diana Wells lost track of God in her hard-earned quest for success in the New York advertising world. Now she's accused of embezzlement, fleeing for her life with nowhere else to turn. When trail outfitter Shepherd Jones runs Diana's car off the road, the ex - U.S. Marshal isn't sure what to make of his comely stray. Instinct says this duchess of disaster is on the run and needs help - a girl like her can't last long in the forsaken outpost of Buffalo Butte. But is Shep willing to risk his life and his heart to offer her the same refuge God once provided him?
- Koorong

Diana Wells lost track of God in her hard-earned quest for success in the New York advertising world. Now she's accused of embezzlement, fleeing for her life with nowhere else to turn. When trail outfitter Shepherd Jones runs Diana's car off the road, the ex -- U.S. Marshal isn't sure what to make of his comely stray. Instinct says this duchess of disaster is on the run and needs help -- a girl like her can't last long in the forsaken outpost of Buffalo Butte. But is Shep willing to risk his life and his heart to offer her the same refuge God once provided him?
- Publisher


Meet the Author
Linda Windsor
Maryland author Linda Windsor has written some twenty-nine historical and contemporary novels for both the secular and inspirational markets, but she is most noted for delivering "The Lift of Laughter and Spirit" in her modern inspirational romances. A Christy finalist and winner of numerous industry awards, Linda has written for Multnomah Publishing (historical fiction and contemporary romances), Barbour Publishing (romcom novella), and Westbow Press (the Moonstruck romantic comedy trilogy). "Wedding Bell Blues, " the first book in her new The Piper Cove Chronicles series, is featured on AvoC