Alternative Medicine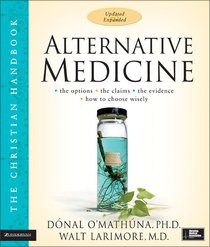 The most complete resource of its kind on alternative medicine * Herbal remedies, dietary supplements, and alternative therapies Their specific uses Which ones really work (and which ones don't) What to watch out for * Christian versus non-Christian approaches to holistic health * Clinically proven treatments versus unproven or quack treatments * Truths and fallacies about supernatural healing * Ancient medical lore: the historical, cultural, and scientific facts * And much, much more Alternative Medicine is the first comprehensive guidebook to nontraditional medicine written from a distinctively Christian perspective. Keeping pace with the latest developments and research in alternative medicine, this thoroughly revised edition combines the most current information with an easy-to-use format. University lecturer and researcher Donal O'Mathuna, PhD, and national medical authority Walt Larimore, MD, provide detailed and balanced answers to your most pressing questions about alternative medicine---and to other questions you wouldn't have thought to ask. Also includes Two alphabetical reference sections: Alternative therapies Herbal remedies, vitamins, and dietary supplements A description of each therapy and remedy, an analysis of claims, results of actual studies, cautions, recommendations, and further resources Handy cross-references linking health problems with various alternative therapies and herbal remedies reviewed in the book

- Publisher
You May Also Be Interested In
About "Alternative Medicine"
The most complete resource of its kind on alternative medicine * Herbal remedies, dietary supplements, and alternative therapies Their specific uses Which ones really work (and which ones don't) What to watch out for * Christian versus non-Christian approaches to holistic health * Clinically proven treatments versus unproven or quack treatments * Truths and fallacies about supernatural healing * Ancient medical lore: the historical, cultural, and scientific facts * And much, much more Alternative Medicine is the first comprehensive guidebook to nontraditional medicine written from a distinctively Christian perspective. Keeping pace with the latest developments and research in alternative medicine, this thoroughly revised edition combines the most current information with an easy-to-use format. University lecturer and researcher Donal O'Mathuna, PhD, and national medical authority Walt Larimore, MD, provide detailed and balanced answers to your most pressing questions about alternative medicine---and to other questions you wouldn't have thought to ask. Also includes Two alphabetical reference sections: Alternative therapies Herbal remedies, vitamins, and dietary supplements A description of each therapy and remedy, an analysis of claims, results of actual studies, cautions, recommendations, and further resources Handy cross-references linking health problems with various alternative therapies and herbal remedies reviewed in the book
- Publisher


Meet the Authors
Donal O'Mathuna
Donal O'Mathuna, PhD, has degrees in pharmacy, medicinal chemistry, and theology (focused on bioethics). He is a lecturer in healthcare ethics in the School of Nursing at Dublin City University, Ireland. Dr. O'Mathuna's long-time interest in alternative medicine has led to many publications in professional journals and the general media. He lives in Dunboyne, Co. Meath, Ireland. SPANISH BIO: Donal O'Mathuna, PhD, es grado en farmacia, medicina quimica, y teologia (con un concentracion en bioeticas). Es un lector en eticas de asistencia sanitaria a la escuela de enfermeria en Dublin City Univer
Walt Larimore
Dr. Walt Larimore has been a medical journalist since 1995. He hosted a nationally syndicated health news feature and has appeared on NBC's The Today Show; CBS Good Morning; CNN Headline News and PBS' Family Works. He practiced family medicine for over twenty years, served as a volunteer physician for the U.S. Olympic Committee, and has been named in Distinguished Physicians of America, Best Doctors in America, and Who's Who in Healthcare and Medicine. He has written or co-written a dozen books, including: Bryson City Tales, Alternative Medicine, 10 Essentials of Highly Healthy People, The Honeymoon Of Your Dreams and His Brain, Her Brain.