The Dangers of Alternative Ways of Healing (Truth And Freedom Series)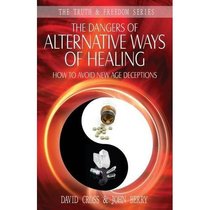 Many forms of alternative therapies are available today and this book provides fascinating coverage of what they are with clear guidelines on how spiritually safe or unsafe they might be. The authors point to the early history and principles of alternative healing methods that enlighten the reader to the spiritual origins of new age healing practices. Many of these practices, including reflexology, yoga and acupuncture, to name just a few, have seen a rise in popularity even amongst some Christians. But are these healing practices spiritually safe and what are the consequences? This book highlights the dangers and provides positive steps to take in the right direction towards true wholeness and well-being in our lives.It will help those who have been involved in alternative therapies and want to free themselves from its effects.

- Publisher
You May Also Be Interested In
About "The Dangers of Alternative Ways of Healing (Truth And Freedom Series)"
Many forms of alternative therapies are available today and this book provides fascinating coverage of what they are with clear guidelines on how spiritually safe or unsafe they might be. The authors point to the early history and principles of alternative healing methods that enlighten the reader to the spiritual origins of new age healing practices. Many of these practices, including reflexology, yoga and acupuncture, to name just a few, have seen a rise in popularity even amongst some Christians. But are these healing practices spiritually safe and what are the consequences? This book highlights the dangers and provides positive steps to take in the right direction towards true wholeness and well-being in our lives.It will help those who have been involved in alternative therapies and want to free themselves from its effects.
- Publisher


Meet the Authors
David Cross
Cross is the owner and managing director of Magnum Solutions, Ltd., an Internet and database consulting firm.
John Berry
John Berry, principal of according2jb.com, Inc., is a consultant and inventor of EV+2TM, a process-driven, software-based management methodology designed to help businesses drastically increase the amount of value captured from information technology investment. He is a former columnist at InternetWeek and Computerworld.
Table Of Contents
Chapter 1 Understanding The Alternatives; Chapter 2 The Age-old Search For Healing; Chapter 3 What's The Attraction?; Chapter 4 Understanding The Roots; Chapter 5 A Closer Look At Alternative;diagnosis And Therapies; Chapter 6 A Closer Look At Alternative Medication, Exercise And Martial Arts; Chapter 7 The Strategies Of The Enemy; Chapter 8 Jesus - The Safe Alternative; Chapter 9 Finding Freedom And Wholeness; Chapter 10 Walking In Safety
Other Titles In The "Truth And Freedom" Series View All