Always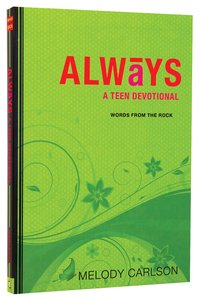 Does your faith make a difference in your life?

Does what you hear at church on Sunday affect the rest of your week? Maybe you let your beliefs remain at a surface level, never letting them really change who you are. But when you read and study the words of Jesus, you can't help but grow in your faith.

Always offers you 90 short devotions that help you encounter Jesus' words for yourself. Popular author Melody Carlson unpacks the message that Jesus wanted his followers to understand. Then she shows you how it applies to your life during the highs and lows of school, family life, relationships, and more.

If you want to read the Bible for all it's worth, check out this final book in the Words from the Rock series.



- Publisher Teen girls are already devoted followers of Melody Carlson's fiction series. From the thousands of personal letters she's received, she knows they want more. They're looking for substance and spiritual guidance that can make a difference in their lives. Always offers readers a fresh way to encounter Jesus's words for their own personal inspiration and practical application. Carlson shares with her faithful young readers the life-changing message of Jesus, giving them something to lean on in the turbulent time of adolescence. This 90-day devotional will strengthen teens' faith and help them understand and love the words of the Savior.

- Publisher
You May Also Be Interested In
About "Always"
Does your faith make a difference in your life?

Does what you hear at church on Sunday affect the rest of your week? Maybe you let your beliefs remain at a surface level, never letting them really change who you are. But when you read and study the words of Jesus, you can't help but grow in your faith.

Always offers you 90 short devotions that help you encounter Jesus' words for yourself. Popular author Melody Carlson unpacks the message that Jesus wanted his followers to understand. Then she shows you how it applies to your life during the highs and lows of school, family life, relationships, and more.

If you want to read the Bible for all it's worth, check out this final book in the Words from the Rock series.


- Publisher

Teen girls are already devoted followers of Melody Carlson's fiction series. From the thousands of personal letters she's received, she knows they want more. They're looking for substance and spiritual guidance that can make a difference in their lives. Always offers readers a fresh way to encounter Jesus's words for their own personal inspiration and practical application. Carlson shares with her faithful young readers the life-changing message of Jesus, giving them something to lean on in the turbulent time of adolescence. This 90-day devotional will strengthen teens' faith and help them understand and love the words of the Savior.
- Publisher


Meet the Author
Melody Carlson
Melody Carlson has published over ninety books for adults, children, and teens, with sales totaling more than two million and many titles appearing on the ECPA Bestsellers List. Several of her books have been finalists for, and winners of, various writing awards, including the Gold Medallion and the RITA Award. Some of her popular multi-volume series include Diary of a Teenage Girl and True Colours.