Amazing Truths: How Science and the Bible Agree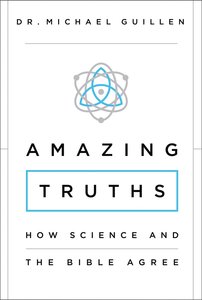 Are science and religion hopelessly at odds with one another in their view of truth? Not if you read physicist Michael Guillen's new book on truth, which shows that the two sources of truth, scientific and religious, are not opposed but in surprising agreement
- Publisher
You May Also Be Interested In
About "Amazing Truths: How Science and the Bible Agree"
Are science and religion hopelessly at odds with one another in their view of truth? Not if you read physicist Michael Guillen's new book on truth, which shows that the two sources of truth, scientific and religious, are not opposed but in surprising agreement
- Publisher
Meet the Author
Michael Guillen
Guillen is a theoretical physicist and former science correspondent for ABC News. He taught physics at Harvard for eight years, during which time he won awards for his distinguished teaching. He currently serves as president of Spectacular Science Productions and chief consultant for science and religion for Crystal Cathedral Ministries.