America the Beautiful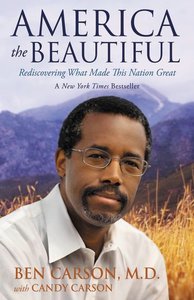 What is America becoming? Or, more importantly, what can she be if we reclaim a vision for the things that made her great in the first place? In America the Beautiful, Dr. Ben Carson helps us learn from our past in order to chart a better course for our future. From his personal ascent from inner-city poverty to international medical and humanitarian acclaim, Carson shares experiential insights that help us understand ... what is good about America ... where we have gone astray ... which fundamental beliefs have guided America from her founding into preeminence among nations Written by a man who has experienced America's best and worst firsthand, America the Beautiful is at once alarming, convicting, and inspiring. You'll gain new perspectives on our nation's origins, our Judeo-Christian heritage, our educational system, capitalism versus socialism, our moral fabric, healthcare, and much more. An incisive manifesto of the values that shaped America's past and must shape her future, America the Beautiful calls us all to use our God-given talents to improve our lives, our communities, our nation, and our world.

- Publisher
You May Also Be Interested In
About "America the Beautiful"
What is America becoming? Or, more importantly, what can she be if we reclaim a vision for the things that made her great in the first place? In America the Beautiful, Dr. Ben Carson helps us learn from our past in order to chart a better course for our future. From his personal ascent from inner-city poverty to international medical and humanitarian acclaim, Carson shares experiential insights that help us understand ... what is good about America ... where we have gone astray ... which fundamental beliefs have guided America from her founding into preeminence among nations Written by a man who has experienced America's best and worst firsthand, America the Beautiful is at once alarming, convicting, and inspiring. You'll gain new perspectives on our nation's origins, our Judeo-Christian heritage, our educational system, capitalism versus socialism, our moral fabric, healthcare, and much more. An incisive manifesto of the values that shaped America's past and must shape her future, America the Beautiful calls us all to use our God-given talents to improve our lives, our communities, our nation, and our world.
- Publisher


Meet the Author
Ben Carson
Dr. Benjamin Carson MD is professor and director of paediatric neurosurgery at Johns Hopkins Medical Institutions and the author of three other bestselling books, Gifted Hands, Think Big and The Big Picture. He overcame an inner-city background to become a world renowned neurosurgeon, widely respected role model, he shares motivational insights with inner-city kids and corporate executives alike. He serves on the corporate boards of The Kellogg Company, Costco Wholesale Corp., and American's Promise among others, and is an Emeritus Fellow of the Yale Corporation. Dr. Carson holds more than 40 honorary doctorates and has been named by the Library of Congress as one of 89 Living Legends. He and his wife, Candy, have three sons and live in Baltimore County, Maryland.