Amy Carmichael - Rescuer By Night (Trail Blazers Series)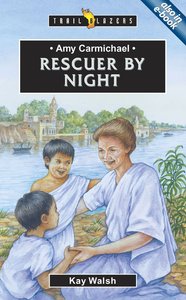 'I can't see! It's dark everywhere. What place is this? Where am I?'

Jeya was only four years old and was terrified as she tried to peer about the dark and gloomy temple. Between the pillars was a huge stone body. She shivered when she saw its face. This, she knew, was Kali, the goddess of death and destruction.

Why was Jeya there? Who would leave a little girl in the dark like that? Certainly not the God of love he sent a woman to rescue these children from destruction - Amy Carmichael. And she had been a little girl herself once a little girl with long dark hair, and deep brown eyes. Once she had even begged God to make them blue but he hadn't. And as Amy leaned over to pick little Jeya up and rescue her from a life of temple-slavery she was very glad that God hadn't listened to her prayers. Blue eyes were not the eyes of India but Amy's brown eyes were.


- Publisher The themes of the second book in this series are Missionary tales and remarkable conversions. Other themes covered in the series are Living for God and the value of scripture Missionary Tales and Remarkable Conversions; Honouring God and Dramatic Deliverances; Faithful Witnesses and Childhood Faith.Joel Beeke and Diana Kleyn have taken a selection of real life incidents and fictional narratives and developed them into a series of devotional books for children aged 712.Scriptural references throughout the book use the King James Version of the Bible and the questions are also based on this version.The stories themselves include a good mixture of historical adventure childhood experiences remarkable instances of conversion and dramatic edge of your seat rescues from danger.

- Publisher
You May Also Be Interested In
About "Amy Carmichael - Rescuer By Night (Trail Blazers Series)"
'I can't see! It's dark everywhere. What place is this? Where am I?'

Jeya was only four years old and was terrified as she tried to peer about the dark and gloomy temple. Between the pillars was a huge stone body. She shivered when she saw its face. This, she knew, was Kali, the goddess of death and destruction.

Why was Jeya there? Who would leave a little girl in the dark like that? Certainly not the God of love he sent a woman to rescue these children from destruction - Amy Carmichael. And she had been a little girl herself once a little girl with long dark hair, and deep brown eyes. Once she had even begged God to make them blue but he hadn't. And as Amy leaned over to pick little Jeya up and rescue her from a life of temple-slavery she was very glad that God hadn't listened to her prayers. Blue eyes were not the eyes of India but Amy's brown eyes were.

- Publisher

The themes of the second book in this series are Missionary tales and remarkable conversions. Other themes covered in the series are Living for God and the value of scripture Missionary Tales and Remarkable Conversions; Honouring God and Dramatic Deliverances; Faithful Witnesses and Childhood Faith.Joel Beeke and Diana Kleyn have taken a selection of real life incidents and fictional narratives and developed them into a series of devotional books for children aged 712.Scriptural references throughout the book use the King James Version of the Bible and the questions are also based on this version.The stories themselves include a good mixture of historical adventure childhood experiences remarkable instances of conversion and dramatic edge of your seat rescues from danger.
- Publisher


Meet the Author
Kay Walsh
Walsh is an English Teacher from Southampton, England.
Other Titles In The "Trail Blazers" Series View All