An Ancient Strife (#02 in Caledonia Series)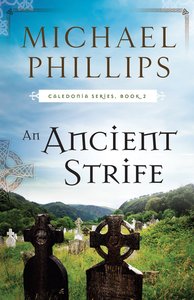 Andrew Trentham's meets a feisty highland lass in Scotland who could help him complete his quest? Caledonia Book 2.

- Publisher Andrew Trenham's personal odyssey to Scotland heats up when he meets a fiery Scottish woman and becomes enmeshed in the investigation of a missing gemstone.

- Publisher 544 Pages

- Publisher An Ancient Strife, the second book in the Scottish Caledonia series, brings all of these elements together with a contemporary political mystery that holds the future of a nation in its answer. At the heart of the book stands Andrew Trentham, a member of the British Parliament who continues his personal pilgrimage to discover his heritage in order to answer questions looming before him in the government.

- Publisher
You May Also Be Interested In
About "An Ancient Strife (#02 in Caledonia Series)"
Andrew Trentham's meets a feisty highland lass in Scotland who could help him complete his quest? Caledonia Book 2.
- Publisher

Andrew Trenham's personal odyssey to Scotland heats up when he meets a fiery Scottish woman and becomes enmeshed in the investigation of a missing gemstone.
- Publisher

544 Pages
- Publisher

An Ancient Strife, the second book in the Scottish Caledonia series, brings all of these elements together with a contemporary political mystery that holds the future of a nation in its answer. At the heart of the book stands Andrew Trentham, a member of the British Parliament who continues his personal pilgrimage to discover his heritage in order to answer questions looming before him in the government.
- Publisher


Meet the Author
Michael Phillips
Michael Phillips is today recognized as one of the Christian bookselling industry's most prolific and versatile authors. He has authored more than 100 books, with total sales exceeding five million copies. He's also the editor of the popular GEORGE MACDONALD CLASSICS series. He and his wife make their home in Eureka, California.