An Eye For An Eye (#02 in Heroes Of Quantico Series)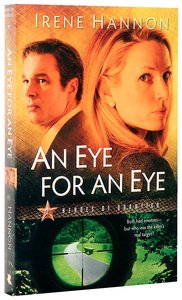 "It was not exactly the romantic reunion Mark Sanders would have planned. While out running one day, Mark unexpectedly bumps into Emily Lawson, his first true love. Just as they are starting to catch up, someone begins shooting at them. Instinctively going into FBI-agent mode, Mark gets Emily to safety, but once backup arrives, the real question is, Who was the target? Logically it would be Mark, but even though it seems like Emily doesn't have an enemy in the world, her work as a clinical psychologist could hold the clue. The one thing Mark knows for certain is that now that he has been reunited with Emily, he isn't about to let anyone take her away again. RITA-award-winner Hannon's latest superbly written addition to her Heroes of Quantico series neatly delivers all the thrills and chills of Suzanne Brockmann's Team Sixteen series with the subtly incorporated faith elements found in Dee Henderson's books."
- Booklist review
You May Also Be Interested In
About "An Eye For An Eye (#02 in Heroes Of Quantico Series)"
"It was not exactly the romantic reunion Mark Sanders would have planned. While out running one day, Mark unexpectedly bumps into Emily Lawson, his first true love. Just as they are starting to catch up, someone begins shooting at them. Instinctively going into FBI-agent mode, Mark gets Emily to safety, but once backup arrives, the real question is, Who was the target? Logically it would be Mark, but even though it seems like Emily doesn't have an enemy in the world, her work as a clinical psychologist could hold the clue. The one thing Mark knows for certain is that now that he has been reunited with Emily, he isn't about to let anyone take her away again. RITA-award-winner Hannon's latest superbly written addition to her Heroes of Quantico series neatly delivers all the thrills and chills of Suzanne Brockmann's Team Sixteen series with the subtly incorporated faith elements found in Dee Henderson's books."
- Booklist review
- Koorong

EXCERPT FROM CATALOG:Emily felt the flush on her cheeks deepen. "Mark Sanders! Are you flirting with me?""I plead the fifth. But just to cover my back, is there a husband I should be concerned about?" His gaze flicked to her ringless left hand.Her smile faded, and with it the lighthearted mood. "Not anymore. I lost him five years ago, less than six months after we were married. Grant was a fire fighter. He died in the line of duty."He let out a slow breath. "I'm sorry.""So am I. He was a good man." She swallowed and summoned up her smile again. "How about you, Mark? Do you have a wife back in Quantico?""No. My career hasn't been conducive to long-term relationships.""Just short-term ones, hmm?" She switched back to banter mode, hoping that would help ease the ache in her heart that memories of Grant always stirred up."I think I'm going to employ those verbal judo techniques you mentioned. How about we settle on a time for that cold drink?""Deflecting my question, huh?"With a chuckle, he lifted his arm to check his watch. "No comment."As he angled away from her to shade the face from the sun, a persistent yellow jacket buzzed her. Sidestepping it, she flapped her hand to shoo it away."The bees are bad this sum--"The distinctive crack of a rifle shot shattered the early morning stillness, cutting her off in mid-sentence.The next thing she knew, Mark lunged at her, taking her to the ground with a powerful thrust.As her body slammed against the unforgiving pavement, the bizarre reality slammed into her with equal force.Someone was shooting at them.
- Publisher

After he accidentally shoots a teenager at a tense standoff, FBI Hostage Rescue Team member Mark Sanders is sent to St. Louis to work as a field agent and get his bearings while the bad press starts to settle. Just weeks away from returning to Quantico to resume his work on the HRT, Mark has a chance encounter with an old flame, Emily Lawson. But their reunion is cut short by a sniper. Now Mark must find the shooter before he tries to strike again. But what is his motive--and who was his intended target? Can Mark put the pieces together, keep Emily safe, and rekindle a long-dead relationship at the same time?

A fast-paced tale of romance, suspense, and intrigue, An Eye for an Eye is the exciting second installment in the Heroes of Quantico series.
- Publisher


Meet the Author
Irene Hannon
Irene Hannon is the bestselling and award-winning author of more than fifty novels, including Buried Secrets and Thin Ice, as well as the Heroes of Quantico, Guardians of Justice, and Private Justice series. In addition to many other honors, she is a seven-time finalist for and three-time winner of the prestigious RITA Award from Romance Writers of America. She is also a member of RWA's elite Hall of Fame. Learn more at www.irenehannon.
Customer Reviews For "An Eye For An Eye (#02 in Heroes Of Quantico Series)"
Write Your Own Review
Great read
By Jo ,

Apr 18 2016
This book was a great follow up book in the series. It was an interesting opening event that the story is built around. It's an easy read but full of mystery, relationships and knowing God. 
{{review.title}}
By {{review.author.name}},

{{review.reviewCreatedDate | date:'MMM dd yyyy'}}

{{reviewdescription}}
{{review.text}}
---
Other Titles In The "Heroes Of Quantico" Series