An Introduction to Old Testament Theology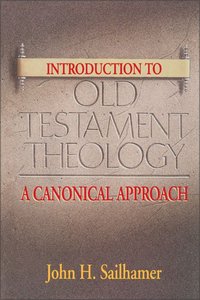 CONTENTSPart 1: INTRODUCTIONChapter 1 IntroductionPART 2: THE METHODOLOGY OF OLD TESTAMENT THEOLOGY Chapter 2Methodology Chapter 3 Text or Event Chapter 4Criticism or CanonChapter 5Descriptive or ConfessionalChapter 6 Diachronic or SynchronicPART 3: A CANONICAL THEOLOGY OF THE OLD TESTAMENT Chapter 7A proposal for a Canonical Theology APPENDICESAppendix A The Mosaic Law and the Theology of the Pentateuch Appendix B Compositional Strategies in the Pentatuech Appendix C The Narrative World of GenesisAppendix D 1 Chronicles 21:16: A study in Inter-Biblical Interpretation

- Publisher The author's purpose for Introduction to Old Testament Theology is to show how different approaches to the Old Testament can be brought together into a single theology. The author develops his own distinctive approach which he calls canonical theology.

- Publisher This book builds a big-picture view of the Old Testament by concentrating on its great unifying themes. --

- Publisher
You May Also Be Interested In
About "An Introduction to Old Testament Theology"
CONTENTSPart 1: INTRODUCTIONChapter 1 IntroductionPART 2: THE METHODOLOGY OF OLD TESTAMENT THEOLOGY Chapter 2Methodology Chapter 3 Text or Event Chapter 4Criticism or CanonChapter 5Descriptive or ConfessionalChapter 6 Diachronic or SynchronicPART 3: A CANONICAL THEOLOGY OF THE OLD TESTAMENT Chapter 7A proposal for a Canonical Theology APPENDICESAppendix A The Mosaic Law and the Theology of the Pentateuch Appendix B Compositional Strategies in the Pentatuech Appendix C The Narrative World of GenesisAppendix D 1 Chronicles 21:16: A study in Inter-Biblical Interpretation
- Publisher

The author's purpose for Introduction to Old Testament Theology is to show how different approaches to the Old Testament can be brought together into a single theology. The author develops his own distinctive approach which he calls canonical theology.
- Publisher

This book builds a big-picture view of the Old Testament by concentrating on its great unifying themes. --
- Publisher


Meet the Author
John H Sailhamer
John H. Sailhamer (Ph.D., University of California at Los Angeles) is professor of Old Testament at Golden Gate Baptist Theological Seminary in Brea, California and was formerly senior professor of Old Testament and Hebrew at Southeastern Baptist Theological Seminary. He was President of The Evangelical Theological Society in 2000 and has published a number of books, including An Introduction to Old Testament Theology; The Pentateuch as Narrative: A Biblical-Theological Commentary; The Meaning of the PentateuchRevelation, Composition and Interpretation and Genesis (The Revised Expositor's Bible Commentary).
Koorong - Editorial Review.
Table Of Contents
Available Only From Spring Arbor; Not Returnable To Zondervan