An Uncommon Courtship (#03 in Hawthorne House Series)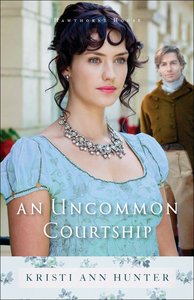 "Engaging Regency romance to sweep you away."--USA Today Happy Ever After Blog

Life for Lady Adelaide Bell was easier if she hid in her older sister's shadow--which worked until her sister got married. Even with thepressure of her socially ambitious mother, the last thing she expected was a marriage of convenience to save her previously spotless reputation.

Lord Trent Hawthorne couldn't be happier that he is not the duke in the family. He's free to manage his small estate and take his time discovering the life he wants to lead, which includes grand plans of wooing and falling in love with the woman of his choice. When he finds himself honor bound to marry a woman he doesn't know, his dream of a marriage like his parents' seems lost forever.

Already starting their marriage on shaky ground, can Adelaide and Trent's relationship survive the pressures of London society?

- Publisher
You May Also Be Interested In
About "An Uncommon Courtship (#03 in Hawthorne House Series)"
"Engaging Regency romance to sweep you away."--USA Today Happy Ever After Blog

Life for Lady Adelaide Bell was easier if she hid in her older sister's shadow--which worked until her sister got married. Even with thepressure of her socially ambitious mother, the last thing she expected was a marriage of convenience to save her previously spotless reputation.

Lord Trent Hawthorne couldn't be happier that he is not the duke in the family. He's free to manage his small estate and take his time discovering the life he wants to lead, which includes grand plans of wooing and falling in love with the woman of his choice. When he finds himself honor bound to marry a woman he doesn't know, his dream of a marriage like his parents' seems lost forever.

Already starting their marriage on shaky ground, can Adelaide and Trent's relationship survive the pressures of London society?
- Publisher


Meet the Author
Kristi Ann Hunter
Kristi Ann Hunter graduated from Georgia Tech with a degree in Computer Science but always knew she wanted to write. Kristi is an RWA Golden Heart contest winner, an ACFW Genesis contest winner, and a Georgia Romance Writers Maggie Award for Excellence winner. She is a founding member and the coordinator of the Regency Reflections blog and lives with her husband and three children in Georgia. Find her online at www.kristiannhunter.com.
Customer Reviews For "An Uncommon Courtship (#03 in Hawthorne House Series)"
Write Your Own Review
Starting at the end!
By Rochelle, NSW,

Jun 30 2017
I got given this book and didn't realise that it was the 3rd in the Hawthorne House series. 
I don't feel that I missed out on previous stories, which is a sign of a good writer. 
Lord Hawthorne and Lady Adelaide start their life together most awkwardly but with searching and heeding wisdom they find their footing. 
I found some of the moments funny and felt their embarrassment in others.
I hope you enjoy this story. Now to read books 1 and 2!!
---
Surprising
By Jacqueline,

Mar 01 2017
I was eager to read this book as it is the third one in a series that I love. It started very slow and I was initially disappointed thinking that it wasn't going to be as great as the other ones. I kept reading though and I am so glad I did. It is a different type of romance as Trent and Adelaide are married in the first couple of pages. This actually gave it real depth as they muddle through finding out what it means to be married, what love is and what place family plays in their relationship. It also has all the fun of the regency era. This was a thoroughly enjoyable book to read. I can't wait for the final one in the series now.
---
A Must for Christian Regency Romance Fans!
By Iola,

Feb 25 2017
An Uncommon Courtship has two awkward characters in an awkward situation, and Hunter tells their story with skill and wit. An Uncommon Courtship is Christian Regency Romance. It follows all the Regency Romance normal conventions, except that both Trent and Abigail are Christians, which gives the plot added depth.

Trent is a true gentleman. He's been forced into this marriage, but is determined to get to know Abigail and turn it into a real marriage. He makes a lot of mistakes, but he's always willing to fix them.

Abigail also makes her share of mistakes, although she isn't as good at fixing them. Not because she doesn't want to, but more because she's spent her life being dominated by her mother and doesn't actually know how to deal with Trent-who is the complete opposite of her unprincipled mother. Mother is a piece of work, and it's good to see both Abigail and Trent learn how to deal with her. 

This is Kristi Ann Hunter's fourth book in this series, and it's as good as the previous stories (and has the advantage of being able to be read as a standalone novel-Trent and Abigail dominate the first part of the novel, while the characters from the earlier stories are reintroduced in the second half).

Thanks to Bethany House and NetGalley for providing a free ebook for review.
---
Beautiful but not for unmarried readers
By Hannah,

Feb 19 2017
This book got off to a very slow start, so much so that I probably would have given up on it if not for the fact that I'd absolutely loved the first two books in the series and knew the author was a good writer. That said, once it got going, I absolutely loved it. The characters just grow more and more in my estimation with each book. Yes, they're hilarious and have me laughing all the way through but they're also searching for answers I'm sure many of us struggle with.

Unlike the earlier books in the series though, I wouldn't recommend it to my teenage sister as there are a couple of scenes which, while handled well and aren't particularly racy, deal very honestly with some of the challenges of marriage and physical intimacy. 

Can't wait for Griffith's story next!

---
promising but...
By Ibu Guru,

Dec 02 2016
I have enjoyed reading this series.  The characters and plot of this story are good but, I think it crosses a line sensually.  If someone is ready to marry, the place for sex education is in a Christian marriage manual, not novels.  People reading this book may be years away from marriage and don't need the bedroom talk to arouse them. (The whole point of good writing is to make the reader "see" what is happening - do we go into other couples' bedrooms with them?)  Another weakness is that Trent's friends give him advice about love, but it doesn't seem to be clearly spelled out in the text.  Modern people seem to think that a relationship is only valid if there are feelings of "love" - some kind of mushy, dizzy feelings, more aptly called infatuation.  No feelings = time for a change of partner.  Rather than ask "Do I love my husband?" we should ask , "Am I loving towards my husband?"  Love is a command to action.  I am sorry to not be able to give 5 stars to this story like " An Elegant Facade."
Thanks to NetGalley and Bethany House for a free copy to review.
{{review.title}}
By {{review.author.name}},

{{review.reviewCreatedDate | date:'MMM dd yyyy'}}

{{reviewdescription}}
{{review.text}}
---
Other Titles In The "Hawthorne House Series" Series View All