Anatomy of the Soul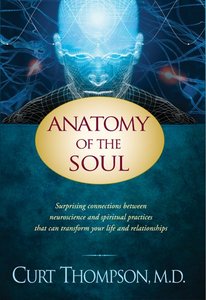 Do you want to improve your relationships and experience lasting personal change? Join Curt Thompson, M.D., on an amazing journey to discover the surprising pathways for transformation hidden inside your own mind. Integrating new findings in neuroscience and attachment with Christian spirituality, Dr. Thompson reveals how it is possible to rewire your mind, altering your brain patterns and literally making you more like the person God intended you to be. Explaining discoveries about the brain in layman's terms, he shows how you can be mentally transformed through spiritual practices, interaction with Scripture, and connections with other people. He also provides practical exercises to help you experience healing in areas where you've been struggling. Insightful and challenging, Anatomy of the Soul illustrates how learning about one of God's most miraculous creations?your brain?can enrich your life, your relationships, and your impact on the world around you.

- Publisher
You May Also Be Interested In
About "Anatomy of the Soul"
Do you want to improve your relationships and experience lasting personal change? Join Curt Thompson, M.D., on an amazing journey to discover the surprising pathways for transformation hidden inside your own mind. Integrating new findings in neuroscience and attachment with Christian spirituality, Dr. Thompson reveals how it is possible to rewire your mind, altering your brain patterns and literally making you more like the person God intended you to be. Explaining discoveries about the brain in layman's terms, he shows how you can be mentally transformed through spiritual practices, interaction with Scripture, and connections with other people. He also provides practical exercises to help you experience healing in areas where you've been struggling. Insightful and challenging, Anatomy of the Soul illustrates how learning about one of God's most miraculous creations?your brain?can enrich your life, your relationships, and your impact on the world around you.
- Publisher


Meet the Author
Curt Thompson
Curt Thompson (MD, Wright State University) is a psychiatrist in private practice in Falls Church, Virginia. He is also the founder of the Center for Being Known, a nonprofit organization that develops resources to educate and train leaders within the fields of mental health, education, business and the the church about the intersection between interpersonal neurobiology and Christian spiritual formation. He is the author of Anatomy of the Soul. Thompson is board certified by the American Board of Psychiatry and Neurology and his main focus of clinical and research interest has been the integration of psychiatry, its associated disciplines and Christian spiritual formation. He is actively engaged in learning and teaching as he supervises clinical employees and facilitates ongoing education groups for patients and colleagues. He also speaks frequently on the topic at workshops, conferences and retreats. Serving as an elder at Washington Community Fellowship in Washington, DC, his duties have included preaching, teaching and participation in the fellowship's healing prayer ministry. He and his wife Phyllis, a licensed clinical social worker, are the parents of two children and reside in Arlington, Virginia.