Ancient Forces Collection (#04 in Forbidden Doors Collection Series)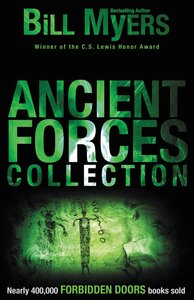 In Volume 4 of the bestselling Forbidden Doors supernatural fiction series, author Bill Myers presents books 10--12---The Ancients, The Wiccan, and The Cards---stories to unmask dangerous occultic influences in young adult lives. With insight and his unsurpassed ability to weave a suspensful story, each volume explores spiritual warfare by presenting biblical truths through realistic situations.

- Publisher Some doors are better left unopened. Join teenager Rebecca 'Becka' Williams, her brother, Scott, and friend Ryan Riordan as they head for mind-bending clashes between the forces of darkness and the power of God. The Ancient Forces Collection brings together three fast-paced novels of the supernatural by bestselling author Bill Myers. The Ancients Sent to a remote village in the mountains of New Mexico by the mysterious Z, Becka, Scott, and Ryan encounter a Native American cult and an evil so potent it can control the very powers of nature---and subtly poison the soul of one of their own. The Wiccan The star of The Hex, the hottest show on TV, is appearing at a local bookstore, and Rebecca's friends are headed off to see her. But Becka quickly discovers that the glamour of Wicca cloaks lies more sinister than anyone imagines. The Cards As past hurts resurface and his emotions reach the breaking point, one of Rebecca's friends seeks the counsel of the Tarot. But do the cards offer hope ... or destruction?

- Publisher
You May Also Be Interested In
About "Ancient Forces Collection (#04 in Forbidden Doors Collection Series)"
In Volume 4 of the bestselling Forbidden Doors supernatural fiction series, author Bill Myers presents books 10--12---The Ancients, The Wiccan, and The Cards---stories to unmask dangerous occultic influences in young adult lives. With insight and his unsurpassed ability to weave a suspensful story, each volume explores spiritual warfare by presenting biblical truths through realistic situations.
- Publisher

Some doors are better left unopened. Join teenager Rebecca 'Becka' Williams, her brother, Scott, and friend Ryan Riordan as they head for mind-bending clashes between the forces of darkness and the power of God. The Ancient Forces Collection brings together three fast-paced novels of the supernatural by bestselling author Bill Myers. The Ancients Sent to a remote village in the mountains of New Mexico by the mysterious Z, Becka, Scott, and Ryan encounter a Native American cult and an evil so potent it can control the very powers of nature---and subtly poison the soul of one of their own. The Wiccan The star of The Hex, the hottest show on TV, is appearing at a local bookstore, and Rebecca's friends are headed off to see her. But Becka quickly discovers that the glamour of Wicca cloaks lies more sinister than anyone imagines. The Cards As past hurts resurface and his emotions reach the breaking point, one of Rebecca's friends seeks the counsel of the Tarot. But do the cards offer hope ... or destruction?
- Publisher


Meet the Author
Bill Myers
Bill Myers is the author of the humorously imaginative The Incredible Worlds of Wally McDoogle series, which currently numbers 27 episodes and over 2.1 million units sold. He is also the creator and writer of the McGee and Me! video/dvd series. Myers is a director as well as a writer, and his films have won over forty national and international awards. He has written more than 50 books for kids, teens, and adults. Myer's work is enjoyed by millions around the world. He lives with his wife and two daughters in Southern California.- Publisher.
Other Titles In The "Forbidden Doors Collection Series" Series View All