Ancient Israel's History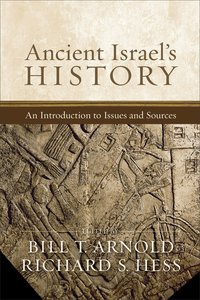 The history of Israel is a much-debated topic in Old Testament studies. On one side are minimalists who find little of historical value in the Hebrew Bible. On the other side are those who assume the biblical text is a precise historical record. Many serious students of the Bible find themselves between these two positions and would benefit from a careful exploration of issues in Israelite history.

This substantive history of Israel textbook values the Bible's historical contribution without overlooking critical issues and challenges. Featuring the latest scholarship, the book introduces students to the current state of research on issues relevant to the study of ancient Israel. The editors and contributors, all top biblical scholars and historians, discuss historical evidence in a readable manner, using both canonical and chronological lenses to explore Israelite history.

Illustrative items, such as maps and images, visually support the book's content. Tables and sidebars are also included.

- Publisher
You May Also Be Interested In
About "Ancient Israel's History"
The history of Israel is a much-debated topic in Old Testament studies. On one side are minimalists who find little of historical value in the Hebrew Bible. On the other side are those who assume the biblical text is a precise historical record. Many serious students of the Bible find themselves between these two positions and would benefit from a careful exploration of issues in Israelite history.

This substantive history of Israel textbook values the Bible's historical contribution without overlooking critical issues and challenges. Featuring the latest scholarship, the book introduces students to the current state of research on issues relevant to the study of ancient Israel. The editors and contributors, all top biblical scholars and historians, discuss historical evidence in a readable manner, using both canonical and chronological lenses to explore Israelite history.

Illustrative items, such as maps and images, visually support the book's content. Tables and sidebars are also included.
- Publisher


Meet the Authors
Bill T Arnold (Ed)
Bill T. Arnold (Ph.D., Hebrew Union College) is Professor of Old Testament and Semitic Languages, William Edmond Conger, Jr. Professor of Academic Leadership, and Director of Hebrew Studies at Asbury Theological Seminary. He has written or edited numerous books books, including 1-2 Samuel (New International Version Application Commentary), Encountering the Old Testament; Encountering Genesis; A Guide to Biblical Hebrew Syntax, Genesis (New Cambridge Bible Commentary) and the Book of Deuteronomy (replacement volume- New International Commentary of the Old Testament).
Koorong - Editorial Review.
Richard S Hess (Ed)
Dr. Richard S. Hess (Ph.D., Hebrew Union College) is professor of Old Testament and Semitic languages at Denver Seminary. He has held National Endowment for the Humanities, Fulbright, and Tyndale House (Cambridge) postdoctoral fellowships and grants. Dr. Hess has done translation and revision work for the New International Version, New American Bible, Holman Standard Christian Bible, and English Standard Version translations of the Old Testament. He is an editor of a series of commentaries on the Septuagint and has translated books of the Septuagint for Logos Bible Software.
He has written commentaries on Joshua (Tyndale Old Testament Commentary)The Song of Songs (Baker Commentary on the Old Testament Wisdom and Psalms), Leviticus (Expositor's Bible Commentary revised), Job (Historical Commentary on the Old Testament), and 1 & 2 Kings (New International Commentary on the Old Testament), along with texts on Archaeology and the Old Testament, Hebrew Grammar, and the study of ancient Near Eastern texts related to the Old Testament.
Koorong-Editorial Review.
Table Of Contents
The History Of Israel Is A Much-debated Topic In Old Testament Studies. On One Side Are Minimalists Who Find Little Of Historical Value In The Hebrew Bible. On The Other Side Are Those Who Assume The Biblical Text Is A Precise Historical Record. Many Serious Students Of The Bible Find Themselves Between These Two Positions And Would Benefit From A Careful Exploration Of Issues In Israelite History.

This Substantive History Of Israel Textbook Values The Bible's Historical Contribution Without Overlooking Critical Issues And Challenges. Featuring The Latest Scholarship, The Book Introduces Students To The Current State Of Research On Issues Relevant To The Study Of Ancient Israel. The Editors And Contributors, All Top Biblical Scholars And Historians, Discuss Historical Evidence In A Readable Manner, Using Both Canonical And Chronological Lenses To Explore Israelite History.

Illustrative Items, Such As Maps And Images, Visually Support The Book's Content. Tables And Sidebars Are Also Included.