And the Abominable Trashman (#08 in Larryboy Series)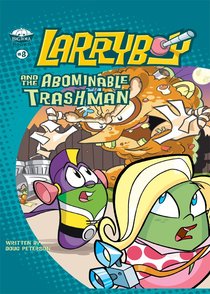 Something smells very fishy in the city of Bumblyburg. It also smells like moldy gym shoes, rotten eggs, and spoiled milk. What's to blame? The Abominable Trashman, one of the weirdest, wildest creatures to ever leap out of a garbage can!The Abominable Trashman and his evil creator, Awful Alvin, are spreading fear throughout Bumblyburg and turning the citizens into slaves of their own fear. Is Bumblyburg doomed to become a smelly trash heap for all-time? LarryBoy must battle the foul monster to rescue the city, but first, he must battle his own fears.Sunday morning values, Saturday morning fun. Now that's the Big Idea!Through imaginative and innovative products, Zonderkidz is feeding young souls.

- Publisher
You May Also Be Interested In
About "And the Abominable Trashman (#08 in Larryboy Series)"
Something smells very fishy in the city of Bumblyburg. It also smells like moldy gym shoes, rotten eggs, and spoiled milk. What's to blame? The Abominable Trashman, one of the weirdest, wildest creatures to ever leap out of a garbage can!The Abominable Trashman and his evil creator, Awful Alvin, are spreading fear throughout Bumblyburg and turning the citizens into slaves of their own fear. Is Bumblyburg doomed to become a smelly trash heap for all-time? LarryBoy must battle the foul monster to rescue the city, but first, he must battle his own fears.Sunday morning values, Saturday morning fun. Now that's the Big Idea!Through imaginative and innovative products, Zonderkidz is feeding young souls.
- Publisher


Meet the Authors
Doug Peterson
Doug Peterson is a writer with the University of Illinois. He co-wrote the story for Larryboy and the Rumor Weed and is the author of over twenty books. He's written more than 300 published articles and a short story, which became the basis of a music video featuring Grammy-winner Jennifer Warnes. He lives in Champaign, IL.
Other Titles In The "Larryboy" Series View All