And Then I Had Teenagers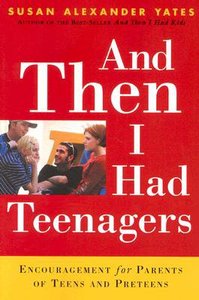 Susan Yates, best-selling author of And Then I Had Kids and How to Like the Ones You Love, now offers encouragement and guidance to parents of teens and preteens. Drawing from her experiences raising five teenagers, she offers parents a unique blend of stories, compassion, and advice. Yates empathizes with parents whose children struggle with communication, peer pressure, and faith???every parent of a teen ???while also considering teenagers??? perspectives and needs. Readers who enjoyed And Then I Had Kids will be eager for this sequel as they prepare for the teen years. With a similar style, it demonstrates how Christian values work within the family and the home. Discussion questions for each chapter make it a perfect resource for small groups, Sunday school, or neighborhood outreach. By encouraging readers to ???articulate the challenges and then choose to focus on the blessings, ??? And Then I Had Teenagers restores hope during one of the craziest seasons of life.

- Publisher "Every parent will benefit from this heartwarming, practical, and insightful book. Your spirit is bound to be buoyed by its message, and your teens will thank you."--Dr. Les Parrott, author of Helping Your Struggling Teenager"I want my daughter to make wise choices, but I'm so afraid she won't.""I feel like I'm losing control. My son always has to have the last word.""My daughter and I have always been so close, but now she seems to be pulling away." "I have a good relationship with my teens but everyone says, 'just wait until . . . .' Do the teen years have to be awful?" Fear, frustration, guilt, loneliness, confusion, and those what ifs . . . "What if I've already messed up my kid?" "What if she turns out like me?" "What if he rejects God?" "What if he gets into drugs?" "What if she doesn't get into the right college?" If you have questions like these, Susan Alexander Yates, best-selling author of And Then I Had Kids, has guidance and encouragement for you. Drawing from her experience raising five teenagers, Yates walks you through everything from preparing for the teen years to letting your teens go. Her insight will help you to create open communication, set limits, understand what's normal (and what's not!), take advantage of peer pressure, build your teens' faith, and much more. "An authentic, practical book for parents of teens who want to raise them right."--Dennis Rainey, executive director of FamilyLife"For years we have looked to Susan Yates for practical wisdom, counsel, and advice as we raise our children. This book is a welcome mentoring manual full of biblical insight."--Bob and Mary Ann Lepine, co-hosts, FamilyLife Today

- Publisher
You May Also Be Interested In
About "And Then I Had Teenagers"
Susan Yates, best-selling author of And Then I Had Kids and How to Like the Ones You Love, now offers encouragement and guidance to parents of teens and preteens. Drawing from her experiences raising five teenagers, she offers parents a unique blend of stories, compassion, and advice. Yates empathizes with parents whose children struggle with communication, peer pressure, and faith???every parent of a teen ???while also considering teenagers??? perspectives and needs. Readers who enjoyed And Then I Had Kids will be eager for this sequel as they prepare for the teen years. With a similar style, it demonstrates how Christian values work within the family and the home. Discussion questions for each chapter make it a perfect resource for small groups, Sunday school, or neighborhood outreach. By encouraging readers to ???articulate the challenges and then choose to focus on the blessings, ??? And Then I Had Teenagers restores hope during one of the craziest seasons of life.
- Publisher

"Every parent will benefit from this heartwarming, practical, and insightful book. Your spirit is bound to be buoyed by its message, and your teens will thank you."--Dr. Les Parrott, author of Helping Your Struggling Teenager"I want my daughter to make wise choices, but I'm so afraid she won't.""I feel like I'm losing control. My son always has to have the last word.""My daughter and I have always been so close, but now she seems to be pulling away." "I have a good relationship with my teens but everyone says, 'just wait until . . . .' Do the teen years have to be awful?" Fear, frustration, guilt, loneliness, confusion, and those what ifs . . . "What if I've already messed up my kid?" "What if she turns out like me?" "What if he rejects God?" "What if he gets into drugs?" "What if she doesn't get into the right college?" If you have questions like these, Susan Alexander Yates, best-selling author of And Then I Had Kids, has guidance and encouragement for you. Drawing from her experience raising five teenagers, Yates walks you through everything from preparing for the teen years to letting your teens go. Her insight will help you to create open communication, set limits, understand what's normal (and what's not!), take advantage of peer pressure, build your teens' faith, and much more. "An authentic, practical book for parents of teens who want to raise them right."--Dennis Rainey, executive director of FamilyLife"For years we have looked to Susan Yates for practical wisdom, counsel, and advice as we raise our children. This book is a welcome mentoring manual full of biblical insight."--Bob and Mary Ann Lepine, co-hosts, FamilyLife Today
- Publisher


Meet the Author
Susan Alexander Yates
Susan Alexander Yates is the author of several books, including And Then I Had Teenagers, And Then I Had Kids and is a regular guest on FamilyLife Today and other national radio programs. She and her husband, John, are popular speakers at marriage and parenting conferences throughout the country. Susan and John live in Falls Church, Virginia.