Angelguard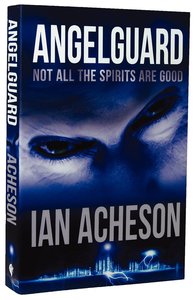 Within a period of weeks, three horrific bomb blasts devastate areas of London, Los Angeles and Sydney. No explanation is offered, no victory claimed for these acts of terror. Yet behind the scenes a Machiavellian European businessman is planning to bring the G8 nations to their knees for his own larcenous purposes, aided by the dark forces to whom he has sold his soul. Jack Haines, an Australian academic, is grieving the loss of wife and children in the Sydney blast. Against his will he finds himself thrown into a war that transcends the physical world, a conflict in which angelic guards have a special mission for him. A gripping novel of the unseen forces that throng our world.

- Publisher
You May Also Be Interested In
About "Angelguard"
Within a period of weeks, three horrific bomb blasts devastate areas of London, Los Angeles and Sydney. No explanation is offered, no victory claimed for these acts of terror. Yet behind the scenes a Machiavellian European businessman is planning to bring the G8 nations to their knees for his own larcenous purposes, aided by the dark forces to whom he has sold his soul. Jack Haines, an Australian academic, is grieving the loss of wife and children in the Sydney blast. Against his will he finds himself thrown into a war that transcends the physical world, a conflict in which angelic guards have a special mission for him. A gripping novel of the unseen forces that throng our world.
- Publisher


Meet the Author
Ian Acheson
Ian Acheson, an Australian, is a freelance strategy consultant based in Sydney, with over twenty-five years' experience in the corporate world. He is an active supporter of the prayer ministry at his local church.
Customer Reviews For "Angelguard"
Write Your Own Review
Great for fans of Frank Peretti
By Hannah,

Nov 14 2016
If you are a fan of Frank Peretti then you will enjoy this book. The author takes the same idea approach to the spiritual realm to write his story. It's a good read, however not quite as refined as it could be. I think this is a great book, however, not one to read when you're home alone for sure! 
---
Worthwhile
By Bri,

Jan 20 2015
I've read Frank Peretti in the past and really enjoyed his books and the ideas portrayed, which was why when i saw the comment that 'fans of frank peretti will love Angelguard' helped me to make the final purchase decision to buy Angelguard. 
It was a bit confusing at first, getting used to all the characters, and the building of the characters and empathy happened further on in the book than I would have liked. However it has been a good read and I've appreciated the ideas that were presented in the book as it really does cause one to consider the spiritual realm. The spiritual realm is something easily enough to ignore, but reading books like Angelguard help to pike my interest and read more about them in the Bible and see what parts are true and what parts are imagination. 
If you enjoy a good plot with many twists then you will enjoy Angelguard. 
---
Angelguard
By Narelle Atkins,

Dec 09 2014
I really enjoyed reading Angelguard, the debut novel by Australian author Ian Acheson. The cover looks scary, but I was quickly drawn into the physical and spiritual story worlds. The book starts in the middle of the action, with the main characters caught up in horrific terrorist attacks. We live through their pain and angst over losing loved ones, and journey with them as they rebuild their lives and face even greater challenges.

I loved the way the plot intertwined, and all the story threads came together in an exciting and thrilling finale. I found the interplay between the angels, demons, and humans both fascinating and plausible in the context of the story. The power of prayer, in particular intercessory prayer, is an important theme in the story. The characters had depth, and I also liked the romantic element in the story that added to the core conflict. I recommend Angelguard to those who like reading supernatural thrillers.
---
Speculative Christian Thriller
By Iola,

Dec 20 2013
I found the first fifty pages hard reading, partly because of the subject nature (the bombings), but more because we were introduced to a large number of human and angelic characters-more than sixty-and it was hard to keep them all straight and know who was going to be important to the plot. There were also a lot of editing glitches, like rapid shifts in point of view, excess use of adverbs, inconsistent use of dashes and the incorrect capitalisation of INSEAD (it's INSEAD, not Insead, according to their website). All this slowed down my reading and made it hard to engage with the story. 

The novel improved dramatically after the first fifty pages, once the central plot started to emerge. It became a tightly-woven plot with lots of important characters and battles operating in the natural and the supernatural. The plot was good, the characters well-drawn and the Christian elements were clear and well-stated. The interplay between the angels and demons reminded me of Frank Peretti's Darkness novels (although I have to admit it must be close to twenty years since I read them), and the novel contains some important spiritual truths which the author manages to bring out without being preachy. 

Recommended for fans of speculative Christian fiction.

Thanks to the author for providing a free ebook for review. 
---
For lovers of the supernatural
By Amanda Deed,

Nov 05 2013
I was looking forward to reading this novel ever since I heard about it late last year. I loved Frank Peretti's This Present Darkness, so I figured I would probably enjoy Angelguard. And I loved that the author was an Aussie.

While it didn't quite meet my expectations, Angelguard ranged across the globe with an exciting plot involving terrorism. This was a good novel from Ian Acheson as a debut, especially as it wound up towards the climax with lots of tension. But I did find that there were so many characters, both human and spirit beings, that I often had to stop and remember who was who.

Angelguard does give a good picture of how prayer affects the spirit world, and therefore the natural world, and inspires us to get on our knees and intercede for those who don't know Christ -- and that is a great take away from the book in my opinion.

If you love action and glimpses into the supernatural, you will enjoy this novel. But be advised, there are a couple of words in there that might offend some readers. Overall though, a good read.

{{review.title}}
By {{review.author.name}},

{{review.reviewCreatedDate | date:'MMM dd yyyy'}}

{{reviewdescription}}
{{review.text}}
---