Angels and Demons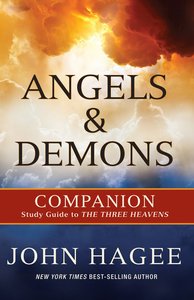 Explore the world of the supernatural with this companion to The Three Heavens. In The Three Heavens, Pastor John Hagee takes readers on a journey into each of the Three Heavens, as presented in the Word of God. Pastor Hagee continues the journey into the world of angels and demons in this companion study guide. This timely, essential companion resource includes: * An eight-week study guide of The Three Heavens book, featuring scriptural insights, discussion questions, and applications for individual or group use * Key biblical passages related to the Three Heavens * Additional teaching about angels and demons Angels & Demons: A Companion Study Guide to The Three Heavens gives you a deeper understanding of the Three Heavens and of the supernatural forces at work on the earth right now. You will have hope for today and for the future when you read The Three Heavens and this companion study guide.

- Publisher
You May Also Be Interested In
About "Angels and Demons"
Explore the world of the supernatural with this companion to The Three Heavens. In The Three Heavens, Pastor John Hagee takes readers on a journey into each of the Three Heavens, as presented in the Word of God. Pastor Hagee continues the journey into the world of angels and demons in this companion study guide. This timely, essential companion resource includes: * An eight-week study guide of The Three Heavens book, featuring scriptural insights, discussion questions, and applications for individual or group use * Key biblical passages related to the Three Heavens * Additional teaching about angels and demons Angels & Demons: A Companion Study Guide to The Three Heavens gives you a deeper understanding of the Three Heavens and of the supernatural forces at work on the earth right now. You will have hope for today and for the future when you read The Three Heavens and this companion study guide.
- Publisher


Meet the Author
John Hagee
Dr. John C. Hagee is the founder and pastor of the 17,000-member Cornerstone Church in San Antonio, Texas. Dr. Hagee is also the President and C.E.O. of Global Evangelism Television which telecasts his national radio and television ministry on 120 TV stations, 110 radio stations, three networks and can be seen weekly in over 92 million homes. He is the author of several CBA bestsellers including HIS GLORY REVEALED, FROM DANIEL TO DOOMSDAY, GOD'S TWO-MINUTE WARNING, and THE REVELATION OF TRUTH.