Anointed to Heal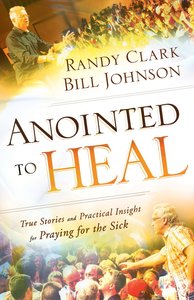 Practical Insight on Praying for the Sick from Two Bestselling Authors

If you could sit down and talk privately with two world-renowned leaders in healing ministry--away from the spotlights, stages, and eager crowds--this is the conversation you would have!

Bestselling authors Randy Clark and Bill Johnson witness the miraculous regularly and see thousands touched by God each year. Now, in a rare behind-the-scenes format, these close friends interview each other, sharing with you the heartbreaks and victories, the failures and successes, the personal and candid insights into their extraordinary journeys. With honesty and humor, Clark and Johnson reveal
· how they first heard God's call
· the hard-learned lessons that propelled them forward
· the most amazing miracles each has witnessed
· detailed strategies for more effective ministry
· and much more

These real-life reflections from two soldiers on the front lines of healing ministry will inspire your own obedience to God's voice, your deeper faith that God is at work, and your trust in his power to bring the answers you need.

- Publisher
You May Also Be Interested In
About "Anointed to Heal"
Practical Insight on Praying for the Sick from Two Bestselling Authors

If you could sit down and talk privately with two world-renowned leaders in healing ministry--away from the spotlights, stages, and eager crowds--this is the conversation you would have!

Bestselling authors Randy Clark and Bill Johnson witness the miraculous regularly and see thousands touched by God each year. Now, in a rare behind-the-scenes format, these close friends interview each other, sharing with you the heartbreaks and victories, the failures and successes, the personal and candid insights into their extraordinary journeys. With honesty and humor, Clark and Johnson reveal
· how they first heard God's call
· the hard-learned lessons that propelled them forward
· the most amazing miracles each has witnessed
· detailed strategies for more effective ministry
· and much more

These real-life reflections from two soldiers on the front lines of healing ministry will inspire your own obedience to God's voice, your deeper faith that God is at work, and your trust in his power to bring the answers you need.
- Publisher


Meet the Authors
Bill Johnson
Johnson is a fifth-generation pastor with a rich heritage in the Holy Spirit. Together Bill and his wife serve a growing number of churches that have partnered for revival. Bill and Beni Johnson are the senior pastors of Bethel Church, Redding, California.
Randy Clark
Frank has been engaged in teaching the Bible and theological subjects since the mid 1980s. His venues have been churches, home groups and Bible studies, and online forums. He is the author of Presence Powered Living: Building a Life of Intimacy and Partnership with God, published by Vineyard International Publishing.He and his wife of 16 years, Denise, attend Joy Vineyard Fellowship in Virginia Beach,Virginia.