Answering Your Kids' Toughest Questions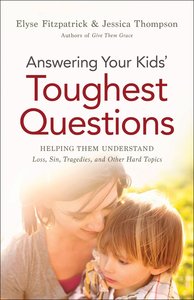 The Honest, Loving Answers Children Need to Hear

What should you say when your five-year-old asks about his dying grandma? Or when your seven-year-old wonders if the devil is real? Or when the sixth graders in your Sunday school class are talking about a tragedy they heard about on the news? When it comes to the dark and tragic aspects of our world, it can be hard to know what to say and how much.

Mother/daughter team Elyse Fitzpatrick and Jessica Thompson will carefully walk you through difficult conversations, one topic at a time. Speaking from personal experience, informed by child development research, these two moms offer practical insights and age-appropriate guidance.

Talking about tough topics may not be as hard as you think, and, more important, you'll see how these conversations can lead to meaningful discussions of God's unchanging goodness.

"I love this book! I will recommend it again and again."--Paul David Tripp, president, Paul Tripp Ministries

"I'm so thankful for Elyse and Jessica's hard work, precision, and focus on Christ in this book."--Gloria Furman, author of Glimpses of Grace and Treasuring Christ When Your Hands Are Full

- Publisher
You May Also Be Interested In
About "Answering Your Kids' Toughest Questions"
The Honest, Loving Answers Children Need to Hear

What should you say when your five-year-old asks about his dying grandma? Or when your seven-year-old wonders if the devil is real? Or when the sixth graders in your Sunday school class are talking about a tragedy they heard about on the news? When it comes to the dark and tragic aspects of our world, it can be hard to know what to say and how much.

Mother/daughter team Elyse Fitzpatrick and Jessica Thompson will carefully walk you through difficult conversations, one topic at a time. Speaking from personal experience, informed by child development research, these two moms offer practical insights and age-appropriate guidance.

Talking about tough topics may not be as hard as you think, and, more important, you'll see how these conversations can lead to meaningful discussions of God's unchanging goodness.

"I love this book! I will recommend it again and again."--Paul David Tripp, president, Paul Tripp Ministries

"I'm so thankful for Elyse and Jessica's hard work, precision, and focus on Christ in this book."--Gloria Furman, author of Glimpses of Grace and Treasuring Christ When Your Hands Are Full
- Publisher


Meet the Authors
Elyse Fitzpatrick
Elyse M. Fitzpatrick is not only a retreat and conference speaker but also a staff counselor at Grace Church in San Diego, which is part of the Sovereign Grace family of churches. She holds a Masters in biblical counseling from Trinity Theological Seminary, has nearly twenty years in biblical counseling experience, and has authored nearly a dozen books including Comforts from the Cross: Celebrating the Gospel One Day at a Time and Because He Loves Me: How Christ Transforms Our Daily Life. She is also the head of Women Helping Women Ministries..
Jessica Thompson
ELYSE M. FITZPATRICK is author of more than fifteen books on biblical counseling, family, and the Christian life, including Because He Loves Me .nbsp;JESSICA THOMPSON is a member of an Acts 29 church and has been homeschooling for the past two years. She is married and has three children.