Answering Your Questions About Speaking in Tongues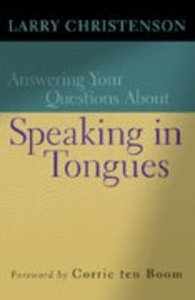 This classic, first published in 1968, is an easy to understand book explaining the purpose and meaning that God had in mind when He appointed the gift of tongues for the church. Written for lay Christians, it discusses speaking in tongues as a sign, as a gift, and as a ministry, as well as answering the question many Christians ask: "Is speaking in tongues for me?" The Christian Research Institute called it "an excellent study on this gift: whether you agree or disagree, this book will answer many questions people are asking today." The book includes a new introduction from the author, a recognized leader in the renewal movement.

- Publisher 1. What Does This Mean? 2. Speaking In Tongues As "Sign" 3. Speaking In Tongues As "Gift" 4. Speaking In Tongues As "Ministry" 5. Is Speaking In Tongues For Me? 144 Pages

- Publisher
You May Also Be Interested In
About "Answering Your Questions About Speaking in Tongues"
This classic, first published in 1968, is an easy to understand book explaining the purpose and meaning that God had in mind when He appointed the gift of tongues for the church. Written for lay Christians, it discusses speaking in tongues as a sign, as a gift, and as a ministry, as well as answering the question many Christians ask: "Is speaking in tongues for me?" The Christian Research Institute called it "an excellent study on this gift: whether you agree or disagree, this book will answer many questions people are asking today." The book includes a new introduction from the author, a recognized leader in the renewal movement.
- Publisher

1. What Does This Mean? 2. Speaking In Tongues As "Sign" 3. Speaking In Tongues As "Gift" 4. Speaking In Tongues As "Ministry" 5. Is Speaking In Tongues For Me? 144 Pages
- Publisher


Meet the Authors
Larry Christenson
Larry Christenson is an ordained Lutheran minister, bestselling author, and popular speaker. He has written numerous articles and books, including The Christian Family (1.4 million copies sold). He and his wife travel extensively, speaking at conferences, colleges, seminaries, and in congregations. They make their home in northern Minnesota.
Boom Corrie Ten (Fwd)
Corrie ten Boom (1892-1983) was born in Haarlem, The Netherlands. After being arrested in 1944 for helping Jews escape the Nazi regime, Corrie spent the last year of World War II in various prison camps. After the war, she was invited to share her experiences in over sixty countries and was honored by the state of Israel for her work during the war. Her life story, The Hiding Place, was originally released in 1971. In 1977, she settled in California, where she remained until her death in 1983, on her 91st birthday. She also authored Each New Day,Tramp For The Lord, In My Father's House, and I Stand at the Door and Knock. -Editorial Review.