Answers Book 4 Teens (Volume 2)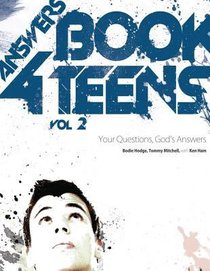 $

18.99

$

15.19
You Save: $3.80 (20%)
Paperback
The newest in the collection of bestselling series Answers Book for Teens targets a growing market with a resource resonating with teen relevance. Concise and solid answers are teamed with vividly dynamic designs to make this the "go to" book for daily faith questions.

- Publisher
You May Also Be Interested In
About "Answers Book 4 Teens (Volume 2)"
The newest in the collection of bestselling series Answers Book for Teens targets a growing market with a resource resonating with teen relevance. Concise and solid answers are teamed with vividly dynamic designs to make this the "go to" book for daily faith questions.
- Publisher


Meet the Authors
Bodie Hodge
Mr. Bodie Hodge attended Southern Illinois University at Carbondale and received a B.S. and M.S. in mechanical engineering. His specialty was a subset of mechanical engineering based in advanced materials processing, particularly starting powders. Currently, Bodie is a speaker, writer, and researcher for Answers in Genesis?USA. He is the author of The Fall of Satan and co-author of Dragons: Legends & Lore of Dinosaurs.
Tommy Mitchell
Dr. Tommy Mitchell has been a speaker and writer for Answers in Genesis since 2005. He has degrees in cell biology and biochemistry, as well as a medical degree. Once an evolutionist, now a creationist, he feels extremely passionate about sharing the vital creation/gospel message with the world, especially with influential teens.
Ken Ham
An accomplised author of some of the most popular and effective apologetic
resources on the market, Ken Ham is also the founder of Answers in Genesis-U.
S. andthe president of the Creation Museum. He is also one of the most
in-demand Christian speaker at hundreds of venues to tens of thousands of
believers across the globe each year.