Apologetics Beyond Reason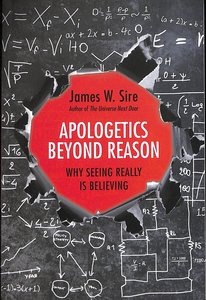 :"Look carefully. Listen closely. Do you see? Do you hear? There are a million signposts pointing toward the specific truth of God in Christ. I've seen many of them. But God is speaking to you too. Look and see. Listen and hear." In this accessible and engaging work, veteran apologist Jim Sire gives us eyes to see the myriad "signals of transcendence" all around us that point to the specific truth of God in Christ. Focusing on the power of good literature-even from those who deny the existence of God-enables us to perceive and testify to God's reality in ways that rational argument alone cannot. "While reason can be very helpful in pointing us to God and helping us in our apologetics, what compels and convinces people is more multidimensional," says Sire. "What is needed is a more holistic apologetic that not only includes truth but also goodness and beauty." All inspiration is rooted in God the Creator, and some of God's truth lies buried until an artist exposes it. Good literature, written from a Christian standpoint or not, displays multiple examples of our human understandings of God, the universe and ourselves. It testifies to the existence of a transcendent realm and often, in fact, to the truth of the Christian faith.

- Publisher
You May Also Be Interested In
About "Apologetics Beyond Reason"
:"Look carefully. Listen closely. Do you see? Do you hear? There are a million signposts pointing toward the specific truth of God in Christ. I've seen many of them. But God is speaking to you too. Look and see. Listen and hear." In this accessible and engaging work, veteran apologist Jim Sire gives us eyes to see the myriad "signals of transcendence" all around us that point to the specific truth of God in Christ. Focusing on the power of good literature-even from those who deny the existence of God-enables us to perceive and testify to God's reality in ways that rational argument alone cannot. "While reason can be very helpful in pointing us to God and helping us in our apologetics, what compels and convinces people is more multidimensional," says Sire. "What is needed is a more holistic apologetic that not only includes truth but also goodness and beauty." All inspiration is rooted in God the Creator, and some of God's truth lies buried until an artist exposes it. Good literature, written from a Christian standpoint or not, displays multiple examples of our human understandings of God, the universe and ourselves. It testifies to the existence of a transcendent realm and often, in fact, to the truth of the Christian faith.
- Publisher


Meet the Author
James W Sire
James W. Sire (Ph.D., University of Missouri), formerly a senior editor at InterVarsity Press, is an active speaker and writer. He has taught English, philosophy, theology and short courses at many universities and seminaries. He continues to be a frequent guest lecturer in the United States and Europe.
His IVP books and Bible studies include The Universe Next Door (a worldviews textbook), Scripture Twisting, Discipleship of the Mind, Chris Chrisman Goes to College, Why Should Anyone Believe Anything at All?, Habits of the Mind: Intellectual Life as a Christian Calling, Naming the Elephant: Worldview as a Concept, Learning to Pray Through the Psalms, Why Good Arguments Often Fail and A Little Primer on Humble Apologetics.
His most recent books are Praying the Psalms of Jesus. and Deepest Differences: A Christian-Atheist Dialogue with staunch atheist Carl Peraino
Koorong - Editorial Review.
Table Of Contents
:preface

Acknowledgments

1. The Past As Prologue: God Adumbrations In Many Daily Forms

2. Wondering About God: An Argument From Ren Descartes And Stanislaw Lem

3. In The Beginning: An Argument From God

4. Secondary Worlds: An Argument From Literature

5. Bright Wings And Wobbling Lighthouses: An Argument From Hopkins And Woolf

6. Night Thoughts And Day Dreams: An Argument From Francisco Goya

7. Meeting The Unexpected: An Argument From Jesus

Afterword

Notes

Bibliography

Subject And Author Index

Scripture Index