Apostle Paul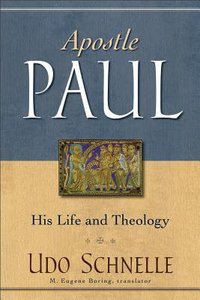 Paul's writings are centrally important not only for the establishment of the Christian faith but also for the whole history of Western culture. Senior New Testament scholar Udo Schnelle offers a comprehensive introduction to the life and thought of Paul that combines historical and theological analysis. The work was translated into clear, fluent English from the original German--with additional English-language bibliographical reference materials--by leading American scholar M. Eugene Boring. First released in hardcover to strong acclaim, the book is now available in paperback. It is essential reading for professors, students, clergy, and others with a scholarly interest in Paul.

- Publisher
You May Also Be Interested In
About "Apostle Paul"
Paul's writings are centrally important not only for the establishment of the Christian faith but also for the whole history of Western culture. Senior New Testament scholar Udo Schnelle offers a comprehensive introduction to the life and thought of Paul that combines historical and theological analysis. The work was translated into clear, fluent English from the original German--with additional English-language bibliographical reference materials--by leading American scholar M. Eugene Boring. First released in hardcover to strong acclaim, the book is now available in paperback. It is essential reading for professors, students, clergy, and others with a scholarly interest in Paul.
- Publisher


Meet the Author
Udo Schnelle
Udo Schnelle (Dr.Theol., University of Gottingen) is professor of New Testament at the University of Halle. He is the author of numerous works, including History and Theology of the New Testament Writings, translated and revised by M. Eugene Boring. M. Eugene Boring (Ph.D., Vanderbilt University) was the I. Wylie and Elizabeth M. Briscoe Professor of New Testament at Brite Divinity School (now retired). He is the author of several books, including the Interpretation commentary on Revelation and (with Fred Craddock) The People's New Testament Commentary.
Table Of Contents
contents

part 1: The Course Of Paul's Life And The Development Of His Thought
1. Prologue: Paul As Challenge And Provocation
2. Sources And Chronology For Paul's Life And Work: Definite And Hypothetical
3. The Pre-christian Paul: Open-minded Religious Zealot
4. The Call To Be Apostle To The Gentiles: The New Horizon
5. The Christian Paul: A Volcano Begins To Rumble
6. The Apostolic Council And The Incident At Antioch: The Problems Remain Unresolved
7. Paul's Independent Mission: The Volcano Erupts
8. Paul And The Thessalonians: Consolation And Confidence
9. First Corinthians: High And True Wisdom
10. Second Corinthians: Peace And War
11. Paul And The Galatians: Discovery In Conflict
12. Paul And The Church In Rome: High-level Encounter
13. Paul In Rome: The Old Man And His Work
part 2: The Basic Structures Of Pauline Thought
14. The Presence Of Salvation: The Center Of Pauline Theology
15. Theology: The God Who Acts
16. Christology: The Lord Who Is Present
17. Soteriology: The Transfer Has Begun
18. Pneumatology: The Spirit Moves And Works
19. Anthropology: The Struggle For The Self
20. Ethic: The New Being As Meaning Formation
21. Ecclesiology: The Church As A Demanding And Attracting Fellowship
22. Eschatology: Expectation And Memory
23. Epilogue: Pauline Thought As Enduring Meaning Formation