Apostolic Church Planting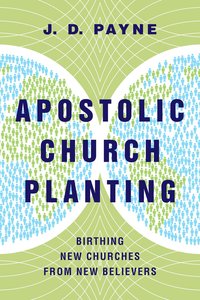 :Church planting is not just about gathering new communities of people who are already Christians. In the book of Acts, church plants begin with sharing the gospel. Planting churches flows naturally out of making disciples. Missionary church planter J. D. Payne explains the process and stages of church planting, with biblical foundations and practical steps for planting teams. He provides a pathway for the multiplication of disciples, leaders and churches. Here are church planting strategies and activities that are simple, highly reproducible and can be implemented by ordinary team members, not just by charismatic leaders.This guide can be used for planting in contexts among any given people group, domestically or internationally. It is an ideal resource for teams to work through together as they follow God's call in their community.

- Publisher
You May Also Be Interested In
About "Apostolic Church Planting"
:Church planting is not just about gathering new communities of people who are already Christians. In the book of Acts, church plants begin with sharing the gospel. Planting churches flows naturally out of making disciples. Missionary church planter J. D. Payne explains the process and stages of church planting, with biblical foundations and practical steps for planting teams. He provides a pathway for the multiplication of disciples, leaders and churches. Here are church planting strategies and activities that are simple, highly reproducible and can be implemented by ordinary team members, not just by charismatic leaders.This guide can be used for planting in contexts among any given people group, domestically or internationally. It is an ideal resource for teams to work through together as they follow God's call in their community.
- Publisher


Meet the Author
J D Payne
J.D. Payne (Ph.D., The Southern Baptist Theological Seminary) is a national missionary with the North American Mission Board and an assistant professor of Evangelism and Church Planting in the Billy Graham School of Missions, Evangelism, and Church Growth at the Southern Baptist Theological Seminary. He holds memberships in the Evangelical Theological Society, Evangelical Missiological Society, and American Society for Church Growth.
He has written numerous articles and reviews in the area of missions and evangelism. He is also the founder of the web-based resource northamericanmissions.org. He has authored Missional House Churches: Reaching Our Communities with the Gospel (Paternoster), The Barnabas Factors: Eight Essential Practices of Church Planting Team Members (Missional Press), Discovering Church Planting: An Introduction to the Whats, Whys, and Hows of Global Church Planting (Paternoster), and Evangelism DQA (Deepest Questions Answered): A Biblical Guide to the Questions Youve Always Wondered About (Paternoster 2010).
Koorong -Editorial Review.
Table Of Contents
:prefaceintroduction1. What Is Church Planting?2. How's Your Ecclesiology?3. Practices Of Team Members4. Pathway To Planting5. Stages Of Planting6. Planned Role Changes7. Church Multiplication Cycle8. Methods9. Where To Begin?10. Pastoral Development11. Strategy Development12. Ethical Guidelinesconclusionacknowledgmentsnotesbibliographyabout The Author