Appointments With Heaven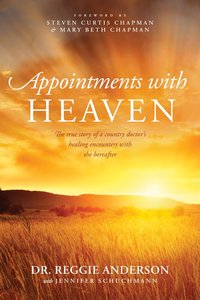 When Dr. Reggie Anderson is present at the bedside of a dying patient, something miraculous happens. Sometimes as he sits vigil and holds the patient's hand ... he can experience what they feel and see as they cross over. Because of these God-given glimpses of the afterlife?his ?appointments with heaven??Reggie knows beyond a doubt that we are closer to the next world than we think. Join him as he shares remarkable stories from his life and practice, including the tragedy that nearly drove him away from faith forever. He reveals how what he's seen, heard, and experienced has shaped what he believes about living and dying; how we can face the passing of our loved ones with the courage and confidence that we will see them again; and how we can each prepare for our own ?appointment with heaven.? Soul-stirring and hope-filled, Appointments with Heaven is a powerful journey into the questions at the very core of your being: Is there more to life than this? What is heaven like? And, most important: Do I believe it enough to let it change me?

- Publisher
You May Also Be Interested In
About "Appointments With Heaven"
When Dr. Reggie Anderson is present at the bedside of a dying patient, something miraculous happens. Sometimes as he sits vigil and holds the patient's hand ... he can experience what they feel and see as they cross over. Because of these God-given glimpses of the afterlife?his ?appointments with heaven??Reggie knows beyond a doubt that we are closer to the next world than we think. Join him as he shares remarkable stories from his life and practice, including the tragedy that nearly drove him away from faith forever. He reveals how what he's seen, heard, and experienced has shaped what he believes about living and dying; how we can face the passing of our loved ones with the courage and confidence that we will see them again; and how we can each prepare for our own ?appointment with heaven.? Soul-stirring and hope-filled, Appointments with Heaven is a powerful journey into the questions at the very core of your being: Is there more to life than this? What is heaven like? And, most important: Do I believe it enough to let it change me?
- Publisher


Meet the Authors
Reggie Anderson
Dr. Reggie Anderson has practiced family medicine for over 25 years and was recently awarded the Frist Humanitarian Award by the Centennial Medical Center in Nashville. A graduate of the University of Alabama Medical School, Reggie is a physician with the Frist Clinic. He also serves as Chief of Staff of TriStar Ashland City Medical Center, as well as medical director of three nursing homes. Reggie and his wife Karen have four adult children and reside on a farm in Kingston Springs. A
Jennifer Schuchmann
Jennifer Schuchmann is an accomplished writer, trainer, and speaker noted for creative and practical approaches to business and spiritual topics. The author of Your Unforgettable Life, Nine Ways God Always Speaks and Six Prayers God Always Answers.
Jennifer has also written for Today's Christian, The Christian Communicator, and Atlanta magazine. She is active in her church, Johnson Ferry Baptist, where she founded and co-teaches a Sunday morning Bible study called "Breakfast and a Movie." She is married to David, and they have a twelve-year-old son, Jordan, who is proof that God answers prayer
Steven Curtis Chapman
With more than ten million records sold in a career that began in 1987, Steven Curtis Chapman has recorded fifteen projects with Sparrow Records. He's received five GRAMMY awards, an American Music Award, 50 Dove Awards (more than any other artist to date), has recorded 44 no. 1 radio hits as well as numerous other honours. His platinum and gold albums include: Speechless, Heaven In The Real World, Declaration, Greatest Hits, Music Of Christmas, Signs Of Life, The Great Adventure, More To This Life and For The Sake Of The Call.- Publisher.