Armageddon (#11 in Left Behind Series)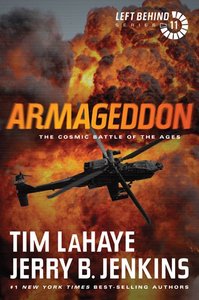 2004 Christy Award finalist!
The scattered Tribulation Force is drawn toward the Middle East, as are all the armies of the world, when human history culminates in the battle of the ages.

During the last year of the Great Tribulation, safe houses are no longer safe and the world has become a powder keg of danger. Except for those already in Petra, everyone has been forced to relocate as the Antichrist ratchets up the pressure in the world's most treacherous game.

As the Trib Force waits for the coming of Christ, Chloe Williams is drawn out of the safe house to investigate something suspicious. Buck and Tsion travel to Jerusalem while Nicolae Carpathia orders an attack on the city, and Rayford becomes seriously injured outside Petra. Who will survive Armageddon?

A repackage of the eleventh book in the New York Times best-selling Left Behind series.

- Publisher
You May Also Be Interested In
About "Armageddon (#11 in Left Behind Series)"
2004 Christy Award finalist!
The scattered Tribulation Force is drawn toward the Middle East, as are all the armies of the world, when human history culminates in the battle of the ages.

During the last year of the Great Tribulation, safe houses are no longer safe and the world has become a powder keg of danger. Except for those already in Petra, everyone has been forced to relocate as the Antichrist ratchets up the pressure in the world's most treacherous game.

As the Trib Force waits for the coming of Christ, Chloe Williams is drawn out of the safe house to investigate something suspicious. Buck and Tsion travel to Jerusalem while Nicolae Carpathia orders an attack on the city, and Rayford becomes seriously injured outside Petra. Who will survive Armageddon?

A repackage of the eleventh book in the New York Times best-selling Left Behind series.
- Publisher


Meet the Authors
Tim Lahaye
Dr. Tim LaHaye is the creator and co-author of the Left Behind series and is also a noted scholar of Biblical prophecy, an internationally known author, a minister, and an educator. He is the founder and president of Tim LaHaye Ministries. Dr. LaHaye and his wife, Beverly, live in southern California.
Jerry B Jenkins
Jerry B. Jenkins, former Vice President for Publishing and currently Writer-at-Large for the Moody Bible Institute of Chicago, is the author of more than 150 books, including the best-selling Left Behind series. Sixteen of his books have reached the New York Times best-seller list and have also appeared on the USA Today, Publishers Weekly and Wall Street Journal best-seller lists. Desecration, book #9 in the Left Behind series was the best-selling novel in America in 2001. Also the former editor of Moody Magazine, his writing has appeared in dozens of Christian periodicals.His non-fiction includes as-told-to biographies of such notable men as Bill Gaither. He helped Dr. Billy Graham with his memoirs, Just As I Am, also a New York Times best seller. Jerry owns Jenkins Entertainment, a filmmaking company in Los Angeles, which produced the critically-acclaimed movie Hometown Legend based on his book of the same name. Jerry Jenkins also owns the Christian Writers Guild, which aims to train tomorrow's professional Christian writers.Under Jerry's leadership, the Guild is steadily expanding its services to include a writers' advocacy centre, college credit courses, a critique service, literary registration services, and writing contests. As a marriage and family author and speaker, Jenkins has been a frequent guest on Dr. James Dobson's Focus On the Family radio program.Jerry and his wife Dianna have three grown sons and three grandchildren. - Publisher.
Other Titles In The "Left Behind Series" Series View All