Art of Daily Resilience: The How to Develop a Durable Spirit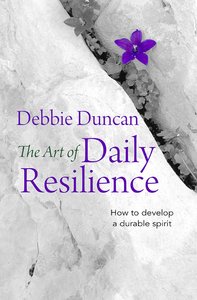 Debbie Duncan knows all too much about the need for resilience. She and her husband Malcolm, and her children, have all had to deal with prolonged ill health, as well as episodes of acute health crisis. Two family members have died. As a pastor's wife and a working mum she copes with emergencies large and small on a daily basis. So what makes you strong when you have no strength? Drawing on her personal experience as a nurse and a teacher, Debbie has considerable insight into what constitutes resilience: the ability to cope, to stay on course, to bounce back. In this helpful new book she considers what is required for physical, mental and spiritual durability, interweaving biblical teaching, prayers, with personal anecdote, and sound advice.

- Publisher
You May Also Be Interested In
About "Art of Daily Resilience: The How to Develop a Durable Spirit"
Debbie Duncan knows all too much about the need for resilience. She and her husband Malcolm, and her children, have all had to deal with prolonged ill health, as well as episodes of acute health crisis. Two family members have died. As a pastor's wife and a working mum she copes with emergencies large and small on a daily basis. So what makes you strong when you have no strength? Drawing on her personal experience as a nurse and a teacher, Debbie has considerable insight into what constitutes resilience: the ability to cope, to stay on course, to bounce back. In this helpful new book she considers what is required for physical, mental and spiritual durability, interweaving biblical teaching, prayers, with personal anecdote, and sound advice.
- Publisher


Meet the Author
Debbie Duncan
Debbie Duncan is a writer, nurse teacher and minister's wife. She lives next door to her husband's church with four children and three dogs.