As It is in Heaven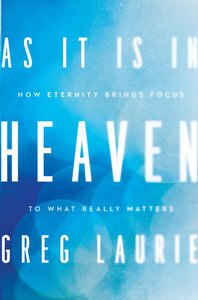 Our lives here are so often cluttered with the "cares of this world" that we fail to consider heavenly priorities and how they should be reflected in our earthly ones. At the beginning of Jesus' most famous prayer, He teaches us to pray that God's will "be done on earth as it is in heaven". What heaven is up to is critical for us to understand if we're going to live biblically. Pastor Greg Laurie explains that heaven is anything but a long, boring church service. People in heaven know about the time and place of ongoing events on earth. They are rational and recall everything from their earthly days, but most importantly for us, they have a unique perspective from which we can learn a great deal.

In this rich and relevant study, Greg sheds scriptural light on the sensational books and stories about people going to heaven and coming back, answers the nagging questions we are all dying to ask, and guides us to focus-right now-on what really matters.

- Publisher
You May Also Be Interested In
About "As It is in Heaven"
Our lives here are so often cluttered with the "cares of this world" that we fail to consider heavenly priorities and how they should be reflected in our earthly ones. At the beginning of Jesus' most famous prayer, He teaches us to pray that God's will "be done on earth as it is in heaven". What heaven is up to is critical for us to understand if we're going to live biblically. Pastor Greg Laurie explains that heaven is anything but a long, boring church service. People in heaven know about the time and place of ongoing events on earth. They are rational and recall everything from their earthly days, but most importantly for us, they have a unique perspective from which we can learn a great deal.

In this rich and relevant study, Greg sheds scriptural light on the sensational books and stories about people going to heaven and coming back, answers the nagging questions we are all dying to ask, and guides us to focus-right now-on what really matters.
- Publisher


Meet the Author
Greg Laurie
Greg Laurie is the senior pastor of Harvest Christian Fellowship in Riverside California and Harvest Orange County in Irvine California. He began his pastoral ministry at the age of 19 by leading a Bible study of 30 people. Since then God has transformed that small group into a church of some 15,000 people. Today Harvest is one of the largest churches in America and consistently ranks among the most influential churches in the country. In 1990 Laurie began holding large-scale public evangelistic events called Harvest Crusades. Since that time more than 4,408,000 people have attended.