As We Forgive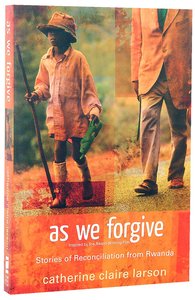 The Rwandan genocide remains one of the most horrific outbursts of evil in our times. This challenging and hopeful book features seven compelling true stories that explore the journey toward reconciliation for the victims and perpetrators of unthinkable atrocity.
You May Also Be Interested In
About "As We Forgive"
The Rwandan genocide remains one of the most horrific outbursts of evil in our times. This challenging and hopeful book features seven compelling true stories that explore the journey toward reconciliation for the victims and perpetrators of unthinkable atrocity.
- Koorong

Inspired by the award-winning film of the same name. If you were told that a murderer was to be released into your neighborhood, how would you feel? But what if it weren't only one, but thousands? Could there be a common roadmap to reconciliation? Could there be a shared future after unthinkable evil? If forgiveness is possible after the slaughter of nearly a million in a hundred days in Rwanda, then today, more than ever, we owe it to humanity to explore how one country is addressing perceptual, social-psychological, and spiritual dimensions to achieve a more lasting peace. If forgiveness is possible after genocide, then perhaps there is hope for the comparably smaller rifts that plague our relationships, our communities, and our nation. Based on personal interviews and thorough research, As We Forgive returns to the boundary lines of genocide's wounds and traces the route of reconciliation in the lives of Rwandans---victims, widows, orphans, and perpetrators---whose past and future intersect. We find in these stories how suffering, memory, and identity set up roadblocks to forgiveness, while mediation, truth-telling, restitution, and interdependence create bridges to healing. As We Forgive explores the pain, the mystery, and the hope through seven compelling stories of those who have made this journey toward reconciliation. The result is a narrative that breathes with humanity and is as haunting as it is hopeful.
- Publisher