At the Movies (#01 in Faithgirlz! Samantha Sanderson Series)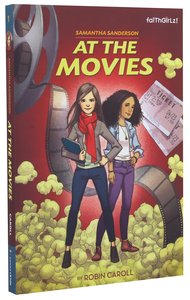 $12.99
$10.39
You Save: $2.60 (20%)
Paperback
Samantha Sanderson and her BFF Makayla are regular Year 7 girls who like shopping, texting, and going to the mall. They're also keen sleuths, on the trail of the next big mystery. With a blend of investigative skill and techno-genius, the girls tackle crimes straight from the headlines! Ages 9+.
You May Also Be Interested In
About "At the Movies (#01 in Faithgirlz! Samantha Sanderson Series)"
Samantha Sanderson and her BFF Makayla are regular Year 7 girls who like shopping, texting, and going to the mall. They're also keen sleuths, on the trail of the next big mystery. With a blend of investigative skill and techno-genius, the girls tackle crimes straight from the headlines! Ages 9+.
- Koorong

A new addition to the Faithgirlz trusted brand of books introduces us to Sam Sanderson, an independent, resourceful, and aspiring award-winning journalist, as well as her best friend Makayla, both 7th graders who enjoy shopping, texting, going to the mall and skating rink---along with sniffing out the next big mysteries to report in the school paper.When a bomb is found in their local movie theater, Sam and Makayla just happen to be seeing a movie. Taking full advantage at this exciting opportunity, Sam reports the 'hot news' in her school paper. Her police detective father heads the investigation but Sam also does a bit of her own investigating with the help of Makayla's techno-genius. In an attempt to follow in the footsteps of her international journalist mother and help crack the case, soon she has her own ideas about the crime, which end up being printed in the school paper---landing her in big trouble---and danger!The Samantha Sanderson series is about an ordinary girl with extraordinary dreams. Each book touches on a crime straight from headlines, from bomb threats to bullying, while following Samantha and her friends as they navigate middle-school and questions of faith.
- Publisher


Meet the Author
Robin Caroll
Robin Caroll has authored twelve previous books including the Holt Medallion Award of Merit winner, "Deliver Us From Evil". She gives back to the writing community by serving as Conference Director for American Christian Fiction Writers. A proud southerner, Robin lives with her husband, three daughters, and two precious grandsons in Arkansas.ý
Other Titles In The "Faithgirlz! Samantha Sanderson Series" Series View All