Athanasius and His Legacy (Mapping The Tradition Series)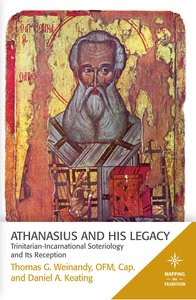 Athanasius was a fiery and controversial bishop from Egypt, driven from his See no less than five times. Yet, his work served as a keystone to the settlement of the central disputes of the fourth century, from the Trinitarian and christological debates at Nicaea to the formulation of the divinity of the Holy Spirit. In this volume, Thomas G. Weinandy, OFM, Cap., and Daniel A. Keating introduce readers to this key thinker and carefully illuminate Athanasius's crucial text Against the Arians, unfolding the Trinitarian and incarnational framework of Athanasius's paramount concern: soteriology. The authors provide, in the second part, a robust map of the reception and influence of Athanasius's thought-from its immediate impact on the late fourth and fifth centuries (in the Cappadocians and Cyril) to its significance for the Eastern and Western Christian traditions and its reception in contemporary thought. Herein, Athanasius is presented for today's readers as one of the chief architects of Christian doctrine and one of the most significant thinkers for the reclamation of the Trinitarian and christological theological tradition.

- Publisher
You May Also Be Interested In
About "Athanasius and His Legacy (Mapping The Tradition Series)"
Athanasius was a fiery and controversial bishop from Egypt, driven from his See no less than five times. Yet, his work served as a keystone to the settlement of the central disputes of the fourth century, from the Trinitarian and christological debates at Nicaea to the formulation of the divinity of the Holy Spirit. In this volume, Thomas G. Weinandy, OFM, Cap., and Daniel A. Keating introduce readers to this key thinker and carefully illuminate Athanasius's crucial text Against the Arians, unfolding the Trinitarian and incarnational framework of Athanasius's paramount concern: soteriology. The authors provide, in the second part, a robust map of the reception and influence of Athanasius's thought-from its immediate impact on the late fourth and fifth centuries (in the Cappadocians and Cyril) to its significance for the Eastern and Western Christian traditions and its reception in contemporary thought. Herein, Athanasius is presented for today's readers as one of the chief architects of Christian doctrine and one of the most significant thinkers for the reclamation of the Trinitarian and christological theological tradition.
- Publisher


Meet the Authors
Thomas G Weinandy
Weinandy is Warden of Greyfriars, Oxford, and tutors and lectures in History and Doctrine at the University of Oxford.
Daniel Keating
Daniel A. Keating teaches at the Sacred Heart Seminary, Detroit.
Other Titles In The "Mapping The Tradition" Series View All
$55.00




Order now to secure your copy when our stock arrives. eBook is Available. 0 Available. Expected to ship in 5 to 6 weeks from Australia.

Formats