Attachments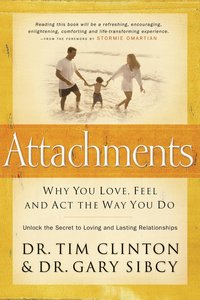 The answer to why people feel and act the way they do lies in the profound effect of a child's bonding process with his or her parents. How successfully we form and maintain relationships throughout life is related to those early issues of "attachment." The author has cited four primary bonding styles that explain why people love, feel, and act the way they do. This book is for anyone who desires closeness, especially in the most intimate relationships: marriage, parenting, close friends, and ultimately with God.

- Publisher
You May Also Be Interested In
About "Attachments"
The answer to why people feel and act the way they do lies in the profound effect of a child's bonding process with his or her parents. How successfully we form and maintain relationships throughout life is related to those early issues of "attachment." The author has cited four primary bonding styles that explain why people love, feel, and act the way they do. This book is for anyone who desires closeness, especially in the most intimate relationships: marriage, parenting, close friends, and ultimately with God.
- Publisher


Meet the Authors
Tim Clinton
Dr. Tim Clinton,(Ed.D., The College of William and Mary, LPC, LMFT) is president of the American Association of Christian Counselors. He is professor of Counseling and Pastoral Care at Liberty University and is executive director of the Liberty University Center for Counseling and Family Studies
Dr Clinton is the Executive Editor and co-author of Caring for People God's Way: A New Guide to Christian Counseling and Competent Christian Counseling: Foundations and Practice of Compassionate Soul Care.
He was Executive Editor and a primary writer for The Soul Care Bible and the author of Attachments: Unlock the Secret to Loving and Being Loved; Why You Do the Things You Do: The Secret to Healthy Relationships, Loving Your Child Too Much: Staying Close to your Kids without Overprotecting, Overindulging, or Overcontrolling and Turn Your Life Around: Breaking Free from Your Past and Discovering God's Dream for You.
Gary Sibcy
Sibcy is a licensed professional counselor, marriage and family therapist with Piedmont Psychiactric Center in Lynchburg.