Attitudes That Attract Success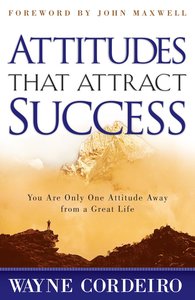 Does your cup runneth over, or is life running you over? Here are practical steps to building internal values and perspectives that will change your life! Embedded in God's Word are the keys to abundant living, and Hawaiian pastor Wayne Cordeiro guides you through those keys with humor and insight. This book will show you the common mistakes people make without realizing it; what separates successful from unsuccessful people; how to see people as God sees them; and how to change the way you think. You are just an attitude away from a fantastic life!

- Publisher
You May Also Be Interested In
About "Attitudes That Attract Success"
Does your cup runneth over, or is life running you over? Here are practical steps to building internal values and perspectives that will change your life! Embedded in God's Word are the keys to abundant living, and Hawaiian pastor Wayne Cordeiro guides you through those keys with humor and insight. This book will show you the common mistakes people make without realizing it; what separates successful from unsuccessful people; how to see people as God sees them; and how to change the way you think. You are just an attitude away from a fantastic life!
- Publisher


Meet the Author
Wayne Cordeiro
Wayne Cordeiro is senior pastor of New Hope Christian Fellowship in Honolulu, Hawaii, one of the nation's fastest growing churches. Pioneered by him, it has grown to over 12,000 in weekend attendance since 1995, with many attendees being first-time Christians. Wayne is an author, songwriter, and highly sought after conference speaker. His books include Doing Church as a Team, Attitudes that Attract Success, The Divine Mentor: Growing Your Faith as You Sit at the Feet of the Savior, and The Dream Releasers. His speaking takes him around the world. He is a church planter at heart and has helped to plant 83 churches in the Pacific Rim. His most recent publication is Leading on Empty: Refilling Your Tank and Renewing Your Passion.