Aussie Stories For Women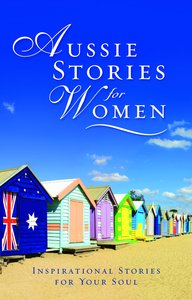 The shape of a woman's world is really only understood by another woman. In this special collection of heart-warming stories, Aussie women share poignant experiences that have touched them deeply. This endearing collection will strengthen your capacity to endure life's difficulties and celebrate life's joys - all bathed in the love that flows from the heart of God.
You May Also Be Interested In
About "Aussie Stories For Women"
The shape of a woman's world is really only understood by another woman. In this special collection of heart-warming stories, Aussie women share poignant experiences that have touched them deeply. This endearing collection will strengthen your capacity to endure life's difficulties and celebrate life's joys - all bathed in the love that flows from the heart of God.
- Koorong

The shape of a woman's world is really only understood by another woman. In this special collection of heart-warming stories, Aussie women share poignant experiences that have touched them deeply. This endearing collection will strengthen your capacity to endure life's difficulties and celebrate life's joys - all bathed in the love that flows from the heart of God.
- Publisher