Authentic Relationships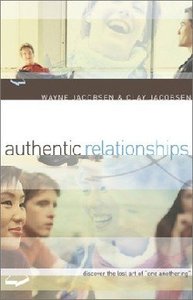 In a culture that promotes isolation and autonomy, this book reveals life-changing methods for creating healthy relationships and authentic community. Readers learn to apply New Testament principles that capture the essence of Jesus' teachings about effectively caring, serving, and loving one another.Beginning with God's simple command to "Love one another," this book shows how to: * develop deep, genuine friendships* model to others a relationship with Jesus* create meaningful interaction with strangers* avoid the pitfalls of judging others* show people love, acceptance, kindness, and respect Complete with discussion questions, this book is appropriate for both individuals and church groups. It is a must for all Christians who wish to practice being the church rather than merely attending one.

- Publisher Develop nurturing friendships that lead to authentic community with this insightful look at the "one another" passages in Scripture.

- Publisher "We all long for friends who understand us, who are there for us, and who are honest enough to correct us when we veer off course. The Jacobsens provide a contagious vision of such authentic relationships and point the way to creating that kind of true community." --Marshall Shelley, editor, Leadership Journal"This mobile, lost of neighborhood, impersonal society of ours spills over into the church and robs us of one of our very greatest strengths. Wayne and Clay Jacobsen, in a 'dare-you-to-put-me-down-or-ignore-me' recapture this waning art of relationships and fellowship with careful biblical theology written with captivating simplicity and personal illustrations/stories that make the applications obvious. This book rises to the level of 'classic' in the same heart-lifting way of his earlier book, 'He Loves me...'. This book should never go out of print. Its usefulness stretches across all levels of Christian life and draws, not pushes, us to be real and loving people just as Jesus urged us. I admire his courage and the firmness of foundation in the book." --Gayle D. Erwin, Servant Quarters"Wayne and Clay Jacobsen are dear, personal friends of mine. From college days, their lives exemplify the idea of 'one another.' Their selfless concern for others has always been uppermost. In their lives and now in their writings comes a fantastic exposition of each individual teaching of 'one another.' When Christ sat with His Twelve, His teaching was finalized in the Upper Room with that concept. May the 'Principle of Twelve' be rooted and grounded in this mighty concept: one another. Those two little words will help us evangelize the rest of the world!" --Pastor Larry Stockstill

- Publisher
You May Also Be Interested In
About "Authentic Relationships"
In a culture that promotes isolation and autonomy, this book reveals life-changing methods for creating healthy relationships and authentic community. Readers learn to apply New Testament principles that capture the essence of Jesus' teachings about effectively caring, serving, and loving one another.Beginning with God's simple command to "Love one another," this book shows how to: * develop deep, genuine friendships* model to others a relationship with Jesus* create meaningful interaction with strangers* avoid the pitfalls of judging others* show people love, acceptance, kindness, and respect Complete with discussion questions, this book is appropriate for both individuals and church groups. It is a must for all Christians who wish to practice being the church rather than merely attending one.
- Publisher

Develop nurturing friendships that lead to authentic community with this insightful look at the "one another" passages in Scripture.
- Publisher

"We all long for friends who understand us, who are there for us, and who are honest enough to correct us when we veer off course. The Jacobsens provide a contagious vision of such authentic relationships and point the way to creating that kind of true community." --Marshall Shelley, editor, Leadership Journal"This mobile, lost of neighborhood, impersonal society of ours spills over into the church and robs us of one of our very greatest strengths. Wayne and Clay Jacobsen, in a 'dare-you-to-put-me-down-or-ignore-me' recapture this waning art of relationships and fellowship with careful biblical theology written with captivating simplicity and personal illustrations/stories that make the applications obvious. This book rises to the level of 'classic' in the same heart-lifting way of his earlier book, 'He Loves me...'. This book should never go out of print. Its usefulness stretches across all levels of Christian life and draws, not pushes, us to be real and loving people just as Jesus urged us. I admire his courage and the firmness of foundation in the book." --Gayle D. Erwin, Servant Quarters"Wayne and Clay Jacobsen are dear, personal friends of mine. From college days, their lives exemplify the idea of 'one another.' Their selfless concern for others has always been uppermost. In their lives and now in their writings comes a fantastic exposition of each individual teaching of 'one another.' When Christ sat with His Twelve, His teaching was finalized in the Upper Room with that concept. May the 'Principle of Twelve' be rooted and grounded in this mighty concept: one another. Those two little words will help us evangelize the rest of the world!" --Pastor Larry Stockstill
- Publisher


Meet the Authors
Wayne Jacobsen
Wayne Jacobsen lives in Oxnard, California, but travels internationally as director of Lifestream Ministries. He is a contributing editor to Leadership Journal and the author of The Naked Church, In My Father's Vineyard, and He Loves Me. Clay Jacobsen, Wayne's brother, has directed The Jerry Lewis Telethon, Dr. Laura, Entertainment Tonight, and Prime Time Country. He is the author of The Lasko Interview and Circle of Seven and resides in Camarillo, California.
Clay Jacobsen
Clay Jacobsen, author and television director, views his career in the entertainment industry as a mission field. He has assembled an impressive list of TV credits in his career including director of "The Dennis Miller Show," "Miss Teen USA," and "Entertainment Tonight," and directed music acts such as Diana Ross, Frank Sinatra, Chicago and Alabama. Jacobsen's books in the Christian market includ "The Lasko Interview," "Circle of Seven," "Interview with the Devil," and most recently "The Lost Art of One Anothering." Clay and his wife, Cindy, have been married 23 years. They live in Southern Ca