Autoridad Espiritual (Spa) (Spiritual Authority)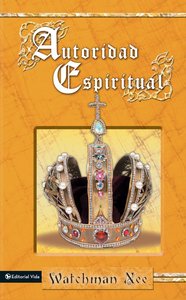 Éste es un libro profundo y a la vez sencillo, que debe leerse con detenimiento y oración. En una época en que los cimientos de la autoridad corren peligro de desmoronarse en la iglesia, en el hogar, en la sociedad y en otros aspectos de la vida en general, el autor nos ofrece consejos y enseñanzas que podrán ser norte y guía en nuestra vida. "Que vuestra autoridad no exceda vuestro ministerio", nos aconseja Watchman Nee en una de sus páginas.

- Publisher
Also Available In
You May Also Be Interested In
About "Autoridad Espiritual (Spa) (Spiritual Authority)"
Éste es un libro profundo y a la vez sencillo, que debe leerse con detenimiento y oración. En una época en que los cimientos de la autoridad corren peligro de desmoronarse en la iglesia, en el hogar, en la sociedad y en otros aspectos de la vida en general, el autor nos ofrece consejos y enseñanzas que podrán ser norte y guía en nuestra vida. "Que vuestra autoridad no exceda vuestro ministerio", nos aconseja Watchman Nee en una de sus páginas.
- Publisher


Meet the Author
Watchman Nee
Watchman Nee was a Chinese Christian teacher whose numerous works have been widely translated into many languages. Born in 1903, Nee became a Christian at the age of seventeen and began writing the same year. He was imprisoned by Communist Chinese authorities in 1952 and died in prison twenty years later. Nee's books include Come, Lord Jesus; A Living Sacrifice; The Normal Christian Life; The Communion of the Holy Spirit; The Finest of the Wheat; and Love Not the World; among many others. Since the early 1970s, Stephen Kaung has translated more than forty of Watchman Nee's simple, yet profound books for western audiences.-Editorial Review.